Interview
Israeli Entrepreneur Aviv Tzidon Wants to Take Part in the Electric Revolution
An embarrassing stint on the Israeli Shark Tank TV show eventually led Tzidon to establish innovative zero-emmision battery company Phinergy
Israeli entrepreneur Aviv Tzidon is not your typical businessman. Twenty years ago, at 38, during what could have then been described as the peak of his career, he decided to take a time out. He sold the stake he held in ten companies, pocketing several millions of dollars—the sale of defense simulation system developer B.V.R. Systems Ltd., which he founded in 1987, brought in $7 million—and walked away.

"I called it being self-unemployed," he told Calcalist in a recent interview. "It had to do with a mid-life crisis and going through a divorce, so I thought, let's see what life is about without work."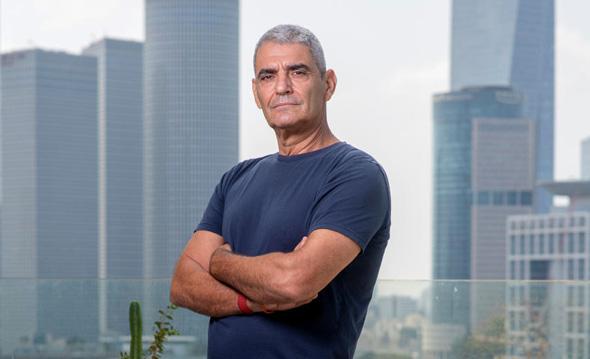 Aviv Tzidon. Photo: Yuval Chen

That break lasted five years. In 2004, B.V.R was spiraling down, and Tzidon decided to come back to its rescue. "I realized it was about to shut down, and I decided I won't let it happen," he said. With some of his own money and a few investors, Tzidon bought back the company.

"There was some sentimentally involved, but mostly it was an unflattering situation," he said of the decision. "I thought that people who do a good job should not be made to pay for mismanagement."

Tzidon and his partners managed to keep the company afloat, and in 2008 sold it again, this time to Israeli defense contractor Elbit Systems Ltd. for $43 million.

Tzidon, now 58, started his career as a pilot in the Israeli Air-Force, a powerful springboard into the Israeli business and tech sector. His first exposure to the local industry, he said, shortly after being released from service in 1982, was working for government-owned defense contractor Israel Aerospace Industries Ltd. (IAI) as part of the team developing the Lavi fighter jet, since cancelled.

"It didn't take me long to found my first company," he said. "By 1999, I was involved in ten companies, three of which went public."

In 2006, Tzidon leveraged his business experience into a seat on the board of the Israeli version of popular television program Shark Tank. "in retrospect, that was a huge mistake," he said. His TV appearance has generated little more than a cause for embarrassment. On the show, he backed a contestant, Joseph Schneider, who represented himself as an inventor, and the two established a partnership. In 2009, Schneider was arrested on suspicion of fraud. Tzidon was caught up in the whole sordid legal affair.

"This story demonstrates how easy it is to misjudge a person," Tzidon said. "I'm a person who believes in people, and it is easier to believe than to be suspicious. If you are constantly on guard, you may be right, but you do not get to enjoy life."

But his stint on Shark Tank had at least one positive outcome. Tzidon said the exposure led to contacts with real inventors, including a research team at Bar Ilan University that was working to develop a metal-air battery, which can generate energy from the connection between aluminum and air. His investment in that team led to the 2008 establishment of Phinergy Ltd. The company, which develops an assortment of zero-emission batteries, including aluminum-air and zinc-air batteries designed as power sources for electric cars, has raised $288 million to date according to Pitchbook data.

Last month, Calcalist reported that Indian state-run Indian Oil Corporation Ltd. has agreed to partner with Phinergy to create battery cells for electric vehicles, with a plan to open a joint factory in India in 2020.

Tzidon said he wants to see Phinergy expand beyond the electric vehicle market. "I hope that the company becomes part of a move to store electricity more efficiently. Ten years from now, electricity will be much cheaper and accessible to everyone, and it will not be generated using coal."

Phinergy already has some extensive collaborations underway, Tzidon said. The first one, in China, will see the company manufacturing it generators locally with a Chinese partner. And then there's the Indian collaboration. According to Tzidon, the next step is establishing a similar partnership in Europe. The company also intends to build a manufacturing facility in Israel. Once Phinergy has all these contracts in its pocket, it will go into a "significant fundraising effort," Tzidon said.

Tzidon's vision goes beyond electric vehicles and disrupting the traditional production processes. In a way, it takes him back in time to his days as a pilot. Tzidon is the chairman of Israel-based aviation company Eviation Aircraft Ltd., which is developing a fully-electric passenger plane, unveiled in June at the Paris Air Show.

Named Alice, after Lewis Carroll's famous character according to Tzidon, the plane is designed to fly a distance of up to 1,000 kilometers at a speed of 440 kilometers per hour on a single charge, according to the company. Measuring 12 meters with a wingspan of 16 meters, it can house up to nine passengers and two pilots. Alice's operational costs are expected to be half those of a regular plane of this size, Tzidon said.

"The plane will generate such a substantial saving that it could completely change the way we use flights," Tzidon said. According to him, Eviation's electric planes should hit the market by 2022.

Last month, Singapore-based investment group The Clarmont Group announced it had acquired a 70% majority stake in Eviation. According to Tzidon, the investment totalled $76 million.

According to Tzidon, Clarmont was brought in as a wealthy partner, to carry Eviation through the pricey testing and licensing process all the way to market. "With Clarmont's investment, we have the peace of mind to plan the future," he said.

After decades in the business, Tzidon can appreciate the importance of peace of mind. According to him, he came close to shutting Phinergy down on at least five occasions. Eviation came close three times. "Without Clarmont's backing, it would have been very difficult to make it to this point," he said.

Having gone through quite a few turbulences, Tzidon has developed strict guidelines for investing his time and money. "I won't invest in things I do not understand or am not excited about," he said. "When you talk about investments, the most precious resource is time," he said. "I believe in doing less and doing it well. I do not believe in spray and pray."