SodaStream CEO Allegedly Gave Ayala Cohen NIS 400,000 to Buy Company Stock
Calcalist first reported on the investigation in September. Cohen, a long-term acquaintance of Daniel Birnbaum, is suspected of making nearly $55,500 off her trading
The plot of SodaStream's ongoing insider trading investigation thickens. Israel Securities Authority (ISA) investigators have discovered that Daniel Birnbaum, the former CEO of SodaStream International Ltd., transferred over $113,250 (NIS 400,000) to Ayala Cohen, his acquaintance suspected of using insider information to trade in the company's stock. According to investigation transcripts reviewed by Calcalist, Birnbaum is suspected of giving Cohen the money to assist her with buying $85,000-worth (NIS 300,000) of SodaStream stock ahead of the company's announcement of its $3.2 billion acquisition by PepsiCo Inc., from which Cohen gained a profit of $42,500 (NIS 150,000).

Calcalist first reported in September that Birnbaum was suspected of providing Cohen, a former SodaStream employee and his long-term acquaintance, with insider information on three occasions, the first in early 2017, and the other two ahead of the acquisition announcement in August 2018. Cohen is suspected of making nearly $55,500 (NIS 200,000) in profit in total.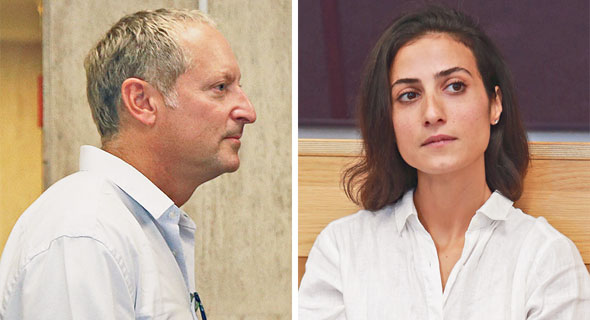 Daniel Birnbaum (left), Ayala Cohen. Photo: Orel Cohen
The ISA froze around $170,000 (nearly NIS 600,000) in Cohen's account when the investigation started. Investigators were suspicious of Cohen's ability to raise the funds she invested on her own, given her status as a graduate student and her occupation as a real estate agent. They are now suspecting, based on witness testimony, that Birnbaum provided her with some of that money.
According to one person familiar with the investigation who spoke to Cacalist on condition of anonymity, Birnbaum only transferred the money a few months ago, after Cohen made her investments. The question, therefore, is whether Birnbaum gave her the money for trade-related purposes, such as the repayment of loans taken to cover the investments, or for another, unrelated purpose.
In her investigation, Cohen told the ISA that though Birnbaum framed her acquisitions as something she did herself, they were both aware that she had never made an investment on her own. "Daniel said the stock would go up and it would be good to buy," she told investigators. The story was that an acquisition was needed to be made at this specific quarter, and that the stock would go up."
Cohen's legal representation Eyal Lavie denied the new findings, telling Calcalist that a leak in the midst of an investigation constitutes a transgression.
Birnbaum's legal representation Amit Becher also said the "malicious" leaks from the investigation create an incorrect association that does not exist and is misleading the public.
The ISA regards any leaks from its investigations with the utmost gravity, as they can disrupt proceedings and harm the pursuit of truth, a spokesperson for the authority told Calcalist.