As Butter Shortage Spreads, Israelis Resort to Hoarding and Even Churning Their Own
"If someone needs two sticks of butter they buy eight," an employee of Israel's biggest supermarket chain Shufersal said
As a butter shortage quickly spreads throughout Israel, local consumers are forced to take drastic measures to secure their fix of fatty goodness. Social media posts in recent months show local consumers boasting impressive stocks of butter they managed to scrape up, sharing the locations of stores where a fresh supply of butter has arrived, and even resorting to churning their own butter at home from more readily available heavy cream.

Some stores have taken to managing butter stocks by limiting the number of sticks per-purchase to keep consumers from hoarding the product and contributing to the shortage. "If someone needs two sticks of butter they buy eight, fearing supply may run out," an employee at a branch of Israel's biggest supermarket chain Shufersal Ltd. told Calcalist.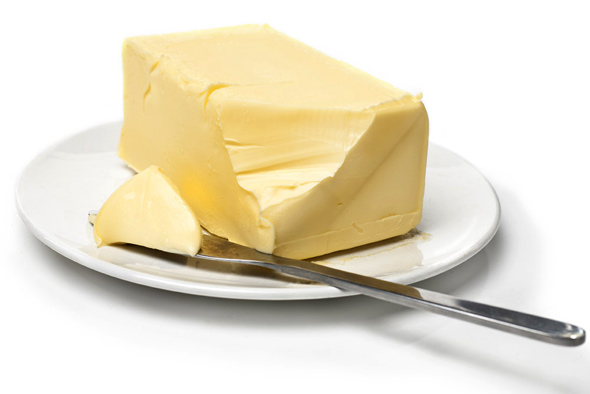 Butter. Photo: Shutterstock

Unfortunately for butter appreciating consumers, the crisis, which has been brewing for the past few years, is unlikely to be resolved any time soon. The shortage will increase well into 2020 and 2021 and the government is doing nothing, several people from the dairy industry who spoke on condition of anonymity told Calcalist. Every available stick of butter is immediately snatched from the shelves, they added.

In Israel, the dairy industry is closely regulated and controlled by the state, which determines how much milk each dairy farm can produce, how much it can charge dairy processing facilities, and for how much manufacturers and retailers can sell the finished products—including butter, milk, cream, and plain cheese spread—to consumers.

Imported butter is also regulated, limited in quantity, or heavily taxed. A quota of 2,800 tonnes of customs-free imported butter meant to be sold at the regulated price was approved by the Ministry of Finance earlier this year, but many importers found the price too low and opted not to meet their allocated quotas.

Regulated butter is sold in Israel for a maximum price of NIS 3.94 (approximately $1.1) per 100 grams. Many estimated a butter shortage in late 2018 was the result of an intentional move by Israel's largest dairy products manufacturer Tnuva Food Industries Ltd., brought about by the finance ministry's refusal to up the regulated price of butter. In actuality, however, the company increased its production that year by nearly 20%, from 3,569 tonnes of butter produced in 2017 to 4,273 tonnes in 2018, according to a report published by Israel's Ministry of Agriculture and Rural Development in May.

But while Tnuva brought home the butter, its biggest competitor, Tara, incorporated as Milco Industries Ltd., decided to nearly terminate its production. While the demand for butter in Israel grew from 4,720 tonnes in 2015 to 5,078 tonnes in 2018, Tara chose to reduce production from 417 tonnes in 2017 to just 234 tonnes in 2018, the report showed. In the first half of 2019, both Tnuva and Tara cut back on butter production as it became less profitable, producing just 1,869 tonnes and 28 tonnes respectively, according to data from Israel-based sales data research company StoreNext Ltd.

Tnuva's stock of milk fat, which it uses for butter and cream production, began running out in December last year, which could explain its decision to cut butter production in early 2019. In order to meet the demand for butter, Israel must increase milk quotas, several people familiar with the matter who spoke on condition of anonymity told Calcalist. The industry requested 60 million liters of milk a year be added to its quota to allow it to extract more fat to use for butter production, the people said. After extracting the fat, you are left with skimmed milk that is turned to powdered milk, but the increased demand for milk fat is a global trend, which means the market is flooded with powder, they added. "We have 9,000 tonnes of powder and nothing to do with it," they said.

A bureaucratic jam further exacerbates the crisis. Last week, Israeli newspaper Yedioth Ahronoth reported that hundreds of containers filled with imported food products, including butter, are being held up in the ports of Ashdod and Haifa, awaiting inspections by Israel's Ministry of Health, delayed due to the Jewish high holidays that took place between late September and mid-October. Zvi Williger, one of the owners of Israeli food importer Willi-Food Investments Ltd., told Calcalist that the company's butter, imported under the state's customs-less quota and sold at the controlled price, is currently off the shelves due to the delays at the ports.

The availability of imported butter has also significantly decreased from a record of 1,094 tonnes in 2016 to 570 tonnes in 2018, the agriculture ministry's report showed. According to people familiar with the matter, the finance and agriculture ministries have recently decided to open a tender for importing up to 5,000 tonnes of customs-free butter. Importers could name their own price, but the ministries will give preference to those offering the lowest costs to consumers.

In a meeting with the agriculture ministry held several weeks ago, local dairy manufacturers asked the ministry to increase quotas and allow unregulated butter imports, citing culinary and health trends as likely culprits in the ever-increasing demand.

The Ministry of Finance generally supports lowering customs fees and opening the market up to competition, a spokesperson for the ministry told Calcalist. The customs policy will be determined once a new government is formed, they said. Israel is currently run by an interim government with limited authorities, as a new government has yet to be formed following the country's general election last month.

A Tnuva spokesperson said that the only cause for the butter shortage is a shortage in milk-derived fat, due to the limited milk production quota set by the government. In 2018, when the butter market grew by 8%, Tnuva significantly increased its butter production to compensate for the decline in imports and production by other manufacturers, the spokesperson said. The company supports increasing import quotas in order to address the crisis in the upcoming years, they added.

Tara has yet to reply to Calcalist's request for comment.