In Israel, Social Climbing Has a Glass Ceiling
Israelis born to low-income or undereducated parents are less likely to move up socially, advance in their careers, or engage in academic studies
Israelis born to low-income or undereducated parents are less likely to move up socially, a survey published Tuesday by the country's Central Bureau of Statistics shows.

According to the survey, the number of people over 30 who do not have a high school diploma is higher among those whose parents did not complete their secondary education: about two thirds had parents who did not attend high school, 25% of them had parents who graduated from high school, and just 7% of them had at least one parent with an academic degree.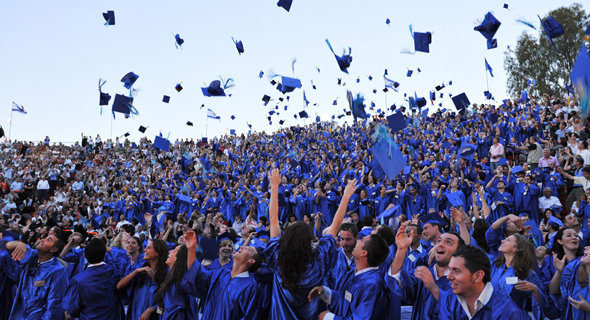 Students graduating from the Interdisciplinary Center Herzliya, Israel. Photo: Yotam From

Among people over 30 that had an academic degree, 70% had at least one parent with an academic degree, and just 15% had parents without an academic education.

When it comes to fields of employment, upward mobility is also rare. According to the survey, of people over 30 whose father had an academic career, 51% also pursued one. Among those whose mother was an academic, 48% were employed in academic professions. Of people whose parents were not academics, just 20% pursued an academic career.