Analysis
Dreams of Eternal Youth Boost InMode's Valuation
The medical aesthetic devices manufacturer doubled its market capitalization since its August IPO on Nasdaq, passing the $1 billion mark this past weekend
WeWork's will-they-won't-they initial public offering dominated global headlines for weeks, overshadowing another recent IPO that, though low-key, was much more successful: that of InMode Aesthetic Solutions Ltd. The common perception today is that if a company is not a unicorn, it should not bother going public. But InMode, which listed in August according to a valuation of $480 million, has more than doubled its market capitalization in the three months that followed. Over the weekend, it passed the $1 billion mark.

That jump made the Israel-based medical aesthetic devices manufacturer one of Wall Street's top three IPOs of the past 12 months. The first place went to Beyond Meat and its innovative burger, which is driving investors crazy. Palomar Holdings Inc., a California-based catastrophe insurer, which, like InMode, is a relatively small but profitable company which also just passed the $1 billion mark, came in second place.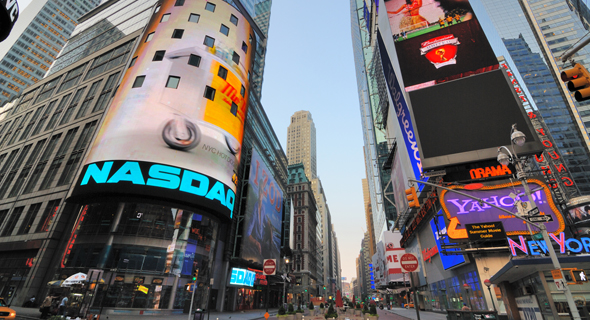 Nasdaq. Photo: Shutterstock

InMode also stands out compared to other recent Israeli IPOs. Online gig marketplace Fiverr Int. Ltd., which listed in June, closed its first trading day 90% up thanks to hype but has since returned to its initial listing price, around $21. The current price per share gives Fiverr a market capitalization of around $662 million, lower than InMode. Cybersecurity company Tufin Software Technologies Ltd., which listed in April, trades 26% above its IPO price per share.

Both Fiverr and Tufin are performing better than Uber, who was initially hailed as the biggest IPO of 2019. Uber currently trades 30% under its IPO price.

Why is Wall Street so enthused about InMode? The reasons can be found in the spirit of the time, but also in the company's story. Even though tech companies were all the IPO buzz in 2019, in reality, investors rewarded companies in the health domain the most—something Beyond Meat also benefited from indirectly. Of the 10 best IPOs of the year in terms of stock performance, only two, Palomar and video conference software developer Zoom Video Communications Inc., are not health-related.

But while InMode was certainly helped by the interest in its domain, it is also an investor darling because it combines a fast growth rate—typically sought out by investors—with net profit, which for many of the companies that went public this past year is nothing but a distant dream. On Tuesday, InMode will release its earnings reports for the third quarter of 2019, its first quarter as a public company. They will show whether InMode justifies the tech-like multiplier under which it is currently traded.

In its second quarter reports, released after the company raised $70 million on its Nasdaq IPO, InMode showed good results. Quarterly revenues amounted to $38.8 million, a 55% increase year-over-year. InMode has surprisingly high gross profit margins for a company that does not sell software or services but rather devices: in the second quarter, the company reported gross margins of 87%, up from 85.9% in the first quarter. The company's net income for the quarter was $15.8 million, up 109% year-over-year and 50% compared to the first quarter of 2019. InMode has been profitable since 2017, and with the $70 million from its IPO, the company now has $82.8 million in its coffers.

How does InMode manage to grow fast while still being profitable? First, thanks to the strong law of small numbers. But also because selling directly to doctors and not to cosmetic clinics enables the company to price its devices higher. InMode needed the IPO funds to boost its marketing efforts, until now focused on the U.S. with Paula Abdul as its presenter.

InMode was founded in 2008 as Invasix by chief technology officer Michael Kreindel and CEO and chairman Moshe Mizrahi, one of the founders of Israel-based medical device company Syneron Medical Ltd. and home aesthetics device developer Home Skinovations Ltd. InMode's medical aesthetic devices use radio-frequency energy technology, which can penetrate subdermal fat, and are used for liposuction, skin tightening and rejuvenation, and Vaginoplasty. InMode's devices enable doctors to exchange plastic surgery for less invasive treatments performed under localized anesthetic, resulting in a shorter recovery period.

Mizrahi and Kreindel are the two biggest beneficiaries of InMode's stock performance, as they are still the company's biggest shareholders. Mizrahi owns an 18.7% stake, currently worth around $200 million, while Kreindel has a 16% bundle worth $170 million. Other major shareholders include Israel HealthCare Ventures, with 14.4%, and U.K.-based ophthalmology company SpaMedica Ltd., with 13.7%.

Though Israel has become somewhat of a medical aesthetic devices empire in recent years, most companies have failed to reach unicorn status. Syneron and medical and aesthetic laser company Lumenis Ltd. both traded at above $1 billion valuation at some point, but were eventually sold for much lower: Lumenis was bought by XIO Group for $500 million in 2015, while Syneron was acquired for $397 million by London-based private equity firm Apax Partners Worldwide LLP in 2017. Aesthetic laser company Alma Lasers, founded by ex-Lumenis executives, was acquired in 2013 by Shanghai-based Fosun Group, which paid $240 million for a 95% stake and in 2017 floated it on the Hong Kong Exchange as Sisram Medical. Mizrahi had so far attempted to list Home Skinovations three times and backtracked, but it is not inevitable that the current climate will see him attempt to go public with the company yet again in 2020.