A Third of Israeli Employees Make Less Than the Minimum Wage, Report Says
It should be noted that Israel's national social security agency, which published the report Tuesday, has no data on whether people work part or full time
A third of Israeli employees, 34%, made less than the minimum monthly wage in 2017, according to an annual report published Tuesday by Bituah Leumi, Israel's national social security agency. That is a 3% increase from 2016, though it could be attributed to the increase in the minimum wage from one year to the next. Ten percent of employees earned more than double the average wage, which was NIS 9,543 (approximately $2,720) in 2017.

It should be noted that Bituah Leumi has no data on whether people work part-time or full time, meaning low wages could also be attributed to part-time jobs. For example, many ultra-Orthodox Jewish women work part-time jobs. While this is a correlation but not necessarily causation, Israeli cities with a large population of ultra-Orthodox Jews tend to have a larger population of under-earners. In Jerusalem, 46% of employees earned less than the monthly minimum wage. In Bnei Brak, that was true for 52% of employees, while in West Bank settlements Beitar Illit and Modi'in Illit the number was 60% and 61%, respectively.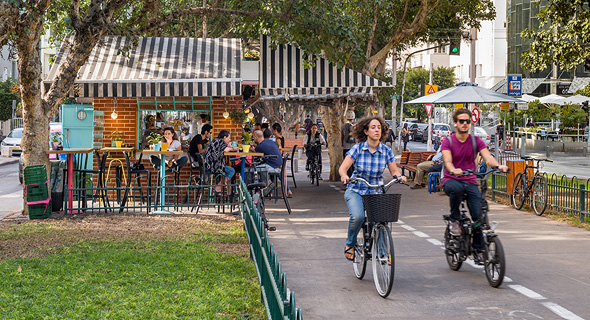 Tel Aviv. Photo: Shutterstock

In Tel Aviv, comparatively, a city that has a large secular population and many tech workers, 3.6% of employees made over four times the minimum wage—the highest percentage among Israel's big cities. In Savyon, a local council numbering some 4,000 people that is ranked on the highest tier of Israel's socio-economic scale, 15% of people earned more than four times the minimum.

Savyon is also the locality with the highest average monthly wage, NIS 20,000 (approximately $5,700). The localities with the lowest average wage are Modi'in Illit, with NIS 5,900 (approximately $1,680), and Bedouin town Bir Hadaj, with NIS 5,800 (approximately $1,650). The minimum monthly wage in Israel in 2017 was NIS 5,000 (approximately $1,425), meaning in these bottom-earning localities the average wage was just a little higher than the minimum. The average monthly income for a household headed by a couple in 2017 was NIS 30,000 (approximately $8,550) in Tel Aviv and NIS 13,700 (approximately $3,900) in Jerusalem.

The average national monthly income for a household headed by a couple in 2017 was NIS 21,600 (approximately $6,150), while the average national monthly income for a household headed by a single parent—usually a woman—was NIS 6,600 (approximately $1,880). The average monthly wage of a woman in Israel in 2017 was 68% that of a man's, according to the report, with the biggest gap recorded among Israel's Arab population.