Over 10,000 People Rode Tel Aviv's Shabbat Shuttle Service This Weekend
The routes were originally meant to run just once every 30 minutes, but just three hours after the service was launched, Tel Aviv announced it was boosting it with additional vehicles
Over the weekend, more than 10,000 passengers used Tel Aviv's free Shabbat public transportation service, Deputy Mayor Meital Lehavi said in a Facebook post Saturday.

The service was launched on Friday evening to offer residents of Tel Aviv and adjacent towns a long-awaited solution for moving around during Shabbat and other Jewish religious holidays.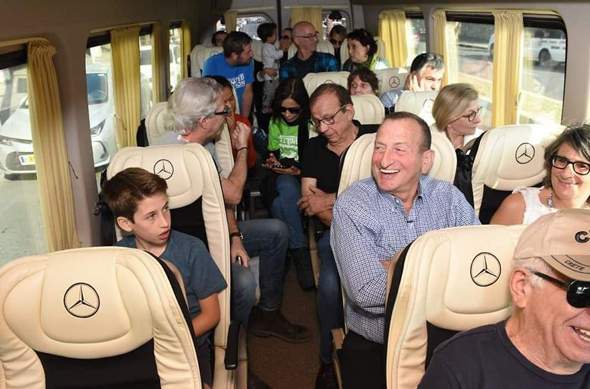 Tel Aviv's mayor Ron Huldai riding a Shabbat route. Photo: Kfir Sivan

Israeli law restricts businesses and services from operating on Shabbat due to what is known as the "status quo"—a binding guideline that dictates maintaining the common practice when it comes to Shabbat observance and other staples of Jewish Orthodoxy. This effectively means no public transportation service can be offered in cities and towns that have a Jewish majority. Being free of charge, however, means Tel Aviv's service does not legally constitute as public transportation.

The service spans over 300 kilometers and is operated in collaboration with neighboring towns Givatayim, Ramat Hasharon, and Kiryat Ono, as well as private Shabbat transportation co-operative N.T Noa Tanoa Energies Ltd.

The service operated between 6 p.m. on Friday and 2 a.m. on Saturday, and between 9 a.m and 5 p.m. on Saturday, with 45 minivans making around 650 trips combined, according to Lehavi.