Hedva Ber's Achievements and Shortcomings in Her Five Years as Israel's Banking Regulator
On Sunday, Israeli banking regulator Hedva Ber announced she will not be extending her tenure
On Sunday, Israeli banking regulator Hedva Ber announced she will not be extending her five-year tenure and will even be cutting it by three months, stepping down in April 2020. The timing of her announcement caught the market by surprise. There have been rumors in the past that Ber's relationship with her direct supervisor, Bank of Israel Governor Amir Yaron, was tense, but both had denied any friction.

During her tenure, Ber made significant changes to three aspects of the Israeli banking system: innovation, efficiency, and competition. The impact of her most dramatic move, the greenlighting of a digital bank, will be discovered only a few years down the road, as it will only start operations in a year and a half. Ber was involved with a law passed by the Israeli parliament in 2017 to increase competition in the financial sector, which mandated a separation between Bank Hapoalim and Bank Leumi, Israel's two largest banks, and their credit card subsidiaries. While the reform has not been without its critics, it has increased the options for small businesses and low-income households.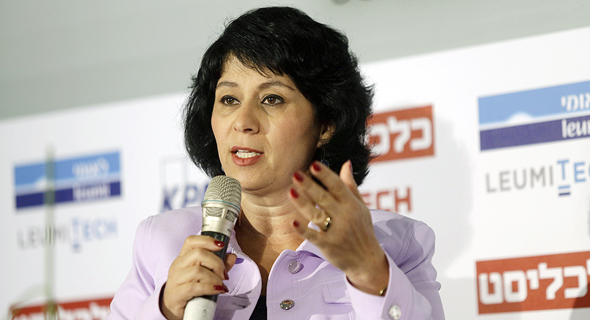 Israeli banking regulator Hedva Ber. Photo: Amit Sha'al
Throughout her tenure, Ber also acted to strengthen Israel's medium-sized banks in the face of their stronger rivals and led the effort to set up the Bank of Israel's credit card database. Ber has also set in place a framework that in approximately 18 months will require the banking system to connect with external players in a way that will enable fintech companies to create an engine for comparing the interest and fees of all banks. She also took action to protect low-income people from aggressive credit campaigns by sending out a memo on the subject to the banks and curtailing aggressive marketing attempts.
Alongside her achievements, Ber has faced plenty of criticism. A frequent critique had to do with the fact that transferring accounts between banks is so complicated it is hardly ever done, while another came from the newly created credit card companies, who claimed the decision to let Israel Discount Bank keep its own credit card subsidiary hurt competition. Another criticism had to do with the decision to enable the banks to offer payment apps right after the establishment of separate credit card companies, which critics claimed essentially enables the banks to continue to compete with the credit industry.
Ber also failed to demand full transparency from the banks regarding the interest rates they levy. Another criticism had to do with the Bank of Israel's inability to create a smart payment infrastructure in Israel, a situation it has moved to start countering only recently. A parliamentary committee set up to investigate bank bailouts for failed tycoons also submitted its conclusions earlier this year, finding the banking regulators responsible for failing to keep the banks in check.
Ber's replacement will need to continue with the processes she started to make the Israeli banking system more efficient. They will also face new challenges, such as encouraging collaboration between different regulators, facing the growing cyber risks that come with increased technological reliance, and maintaining consumer privacy in an era when the same players who operate email services, search engines, and social networks also dip their toes in the financial sector.