List
From Accessible Travel to Wearable Computer Mice: 7 Startups Helping People With Disabilities
Around 14% of Israelis over the age of 20 have severe disabilities, making even the most trivial actions challenging. Listed below are Israeli startups aiming to make their lives just a little bit easier
Around 14% of Israelis over the age of 20, 786,000 people, have severe disabilities, according to a data set released earlier this week by Israel's Central Bureau of Statistics, ahead of the United Nations' International Day of Persons with Disabilities, marked Tuesday.

In addition to the physical challenges they face every day, people with disabilities often find it difficult to get and keep a job. Among those with severe disabilities between the ages of 25 and 64, only 52% are employed, compared to 81% among able bodied people in the relevant age group, the data showed. Of those employed, 30% of disabled people earn less than NIS 5,000 (approximately $1,440) a month, below the country's minimum wage, which currently stands at NIS 5,300 (approximately $1,520) a month. Among able bodied people, just 13% of 25-64 year olds earn less than NIS 5,000 a month.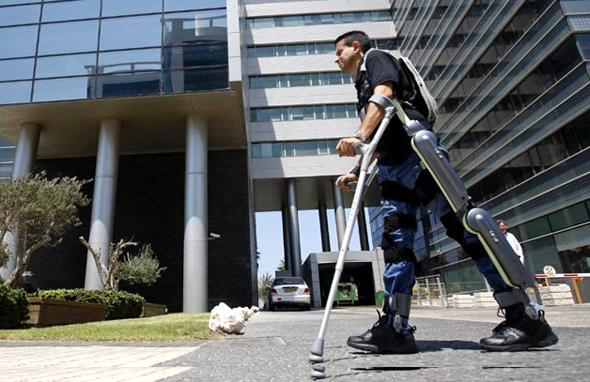 An exoskeleton developed by ReWalk. Photo: Reuters

This specific discrepancy could be explained, at least in part, by two Israeli laws—one that allows for an adjusted decreased minimum wage based on the level of disability, and another that deducts any sums earned over NIS 3,800 (approximately $1,090) a month from the disability stipend offered by the state.

Hardship does not begin and end with securing a job. People with disabilities often face emotional difficulties and maltreatment. According to the data, among 20-64 year olds with a severe disability, 16% reported they frequently felt lonely and 15% felt they have no one to turn to at times of distress, compared to just 4% and 5% respectively among the able bodied population of the same ages. In this age group, 33% of people with a severe disabiliy felt discriminated against in the past year, with 14% stating the discrimination had to do with their disability.

As technology advances and awareness grows, more and more companies are attempting to make life better for those with disabilities. From sensory aids for the visually impaired, through an accessible computer mouse, to an online travel agency for people with disabilities, below are seven Israeli companies looking to help.

6Degrees

Founded: 2017

Founder: Aryeh Katz, Miri Berger

Based in Tel Aviv

As if finding a job wasn't difficult enough, for some people with disabilities, even the most basic work functions, such as operating a computer mouse, are extremely difficult, and even impossible. For these people, 6Degrees Ltd. developed a wearable device that translates upper arm motions into cursor movements, allowing arm amputees, people affected by stroke, and people suffering a loss of dexterity to use tablets, smartphones, and computers.

Voiceitt

Founded: 2012

Founder: Danny Weissberg, Stas Tiomkin, Sara Smolley

Based in Ramat Gan, a town in the Tel Aviv area

Voiceitt, incorporated as Technologies of Voice Interface Ltd., develops technologies that help people with irregular speech patterns caused by illness or other medical conditions, including ALS, autism, and Parkinson's disease, communicate with others. Voiceitt's software analyzes and interprets speech most people would find difficult to understand due to unique pronunciation, outputting it as standard audio or text messages.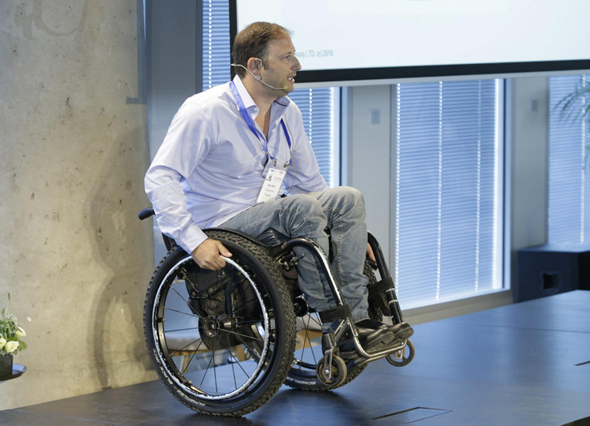 Travaxy founder Lioz Amar. Photo: Amit Sha'al

Travaxy

Founded: 2016

Founder: Lioz Amar

Based in Ramat Yishai, a town in northern Israel

For people with disabilities, travel booking can be a complex, expensive, and, at times, humiliating experience. Lioz Amar, who has been wheelchair-bound since sustaining injury during his military service, founded Travaxy Ltd. to help people with disabilities book flights, hotels, and even wheelchairs, crutches, and other mobility aids that will wait for them at their travel destinations. The service was officially launched in July and currently caters to people traveling to Tel Aviv, New York, Amsterdam, Berlin, and Barcelona.

In an August interview with Calcalist, Amar said one of the major issues for travelers with disabilities was a lack of a standard definition for accessibility. Travaxy users can fill out their specific requirements and the system automatically filters accommodation and travel options according to their needs. To avoid inconveniences, Travaxy also double-checks directly with service providers that they are able to meet these needs.

RenewSenses

Founded: 2018

Founders: Tomer Behor, Amir Amedi

Based in Jerusalem

RenewSenses Ltd. develops technology that helps the blind and visually impaired see through sound. The company develops a wearable device that provides users with audio sensory stimulation to help them gain a better understanding of their surroundings, identify objects and people around them, and figure out where items are located within a given space.

Yoocan

Founded: 2015

Founders: Moshe Gaon, Dror Kalisky, Yoav Gaon

Based in Tel Aviv

As shown by the bureau's data, having a disability can be extremely lonely. Yoocan Technologies Ltd. offers an online support community where people with disabilities can share personal stories, tips, product reviews, and advice. Brothers Moshe and Yoav Gaon founded the company after the latter's son was born with complex cognitive and physical disabilities.

ReWalk

Founded: 2001

Founder: Amit Goffer

Based in Marlborough, Massachusetts and in Yokneam Illit in northern Israel

ReWalk Robotics Ltd. develops wearable exoskeletons that help people walk again after injuries and strokes. ReWalk's first product, a rigid-frame exoskeleton for people who cannot walk on their own due to spinal cord injuries, has been on the market for several years. Its second, ReStore, is a soft-frame suit meant for stroke victims learning to regain motor skills in their lower limbs. The suit uses software and automated mechanisms to prop up the lower body at key joints.

Amit Goffer founded the company following an accident that rendered him a quadriplegic.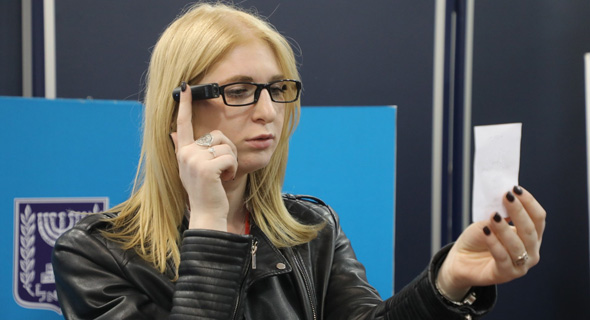 OrCam's reading aid. Photo: OrCam

OrCam

Founded: 2019

Founders: Ziv Aviram and Amnon Shashua

Based in Jerusalem

Visual aid company OrCam Technologies Ltd. develops and manufactures visual aid devices that let the blind and visually impaired read. OrCam's finger-sized device, fitted with a camera and a microphone and clipped onto glasses, discreetly reads printed and digital text aloud to the person wearing it. While the device uses a camera, it does not store any of the information it reads, for user privacy reasons.

OrCam also develops a device it calls MyMe, which uses machine vision algorithms to identify people, providing information such as a person's name and when and where the user last met that person. MyMe can also read texts. In a networking situation, it can automatically scan and sync a business card or name tag.