Analysis
Apax is Verint's White Knight
As part of Verint's separation into two companies, Apax will make an initial minority investment of $200 million, followed by another $200 million infused into the customer engagement entity when the split is complete. Lack of growth and low profitability led Verint's shareholders to push for a separation
Verint Systems Inc. found its white knight. Not a fairytale one, but a business term referring to a friendly takeover with the support of a company's board of directors and management. On Wednesday, Apax Partners, one of the world's leading private equity funds, announced it will become the largest shareholder of Verint. In return, Verint committed to finally making a move to generate value for its shareholders. That same day, Verint—itself a spinoff of Comverse Technology Inc.—announced it will split into two separate companies, one focusing on cyber intelligence and the other on customer engagement. The split is set to be completed by the end of January 31, 2021.

Apax will make an initial minority investment of $200 million, followed by another $200 million infused into the new customer engagement entity. Both companies will list in New York. This will result in Apax owning between 11.5% and 15% of Verint. Apax partner Jason Wright will be appointed to Verint's board, and following the second investment, the fund will appoint an additional board member.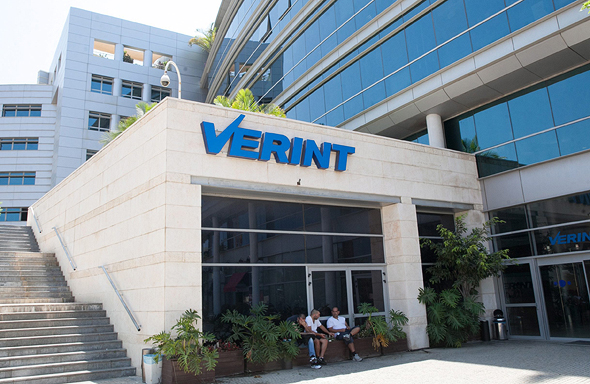 Verint offices in Herzilya. Photo: Orel Cohen

This move was a long time coming for Verint, one that its historical rival Software company NICE Systems Ltd. did almost four years ago to great success. NICE, led by CEO Barak Eilam, chose a slightly different route, selling its intelligence and cyber division to Elbit Systems Ltd. for $157 million and keeping its business division. NICE's refocus boosted it to a $9 billion market capitalization while Verint continued to wade around $3 billion.

Verint's shareholders have been pressuring the company since April to spinoff the cyber business and replace some of the company's veteran board members. Investment management firm Neuberger Berman, which owns a 2.7% stake in Verint and which has been taking on its management, headed by Verint CEO Dan Bodner, was joined by short-seller Ben Axler. Their complaints against Verint's management were relatively simple, pertaining to Verint's lack of growth and low profitability. They actually arrived rather later than expected, perhaps delayed by Bodner's 2018 attempt to merge with Israeli surveillance company NSO Group, which would have cost Verint $1 billion. NSO eventually killed the merger, leaving Verint's shareholders frustrated.

Regarding profitability and growth, NICE has surpassed Verint on both business performance and finances, though the gap is not yet wide. On Wednesday, Verint published its third quarter results, announced revenue of $964 million for the first three quarters of the fiscal year, a 7% increase year-over-year, but a net income of $23.8 million compared to $38.68 million in the same period last year. During the same time period, NICE's reported a 14% increase in revenue to $1.1 billion, and a 27% increase in net income to $124 million.

Alongside Verint's slow growth, which many attribute to a lack of focus, Verint's low profitability is at least partly the result of the company making several acquisitions to cover for its lack of organic growth. The current move, if successful, is intended to improve the performance of both divisions, which don't really have much collaboration today anyway. The customer engagement division, which according to Bodner has almost $1 billion in annual revenue, focuses on selling service support solutions to organizations. NICE chose to retain this division, despite the fact that throughout the years, defense was considered the "sexier" business. Verint, which became an independent company following the September 11 attacks in order to provide intelligence and counter-terrorism services, is finding it difficult to let this division go. According to Bodner, its annual revenue reaches almost $500 million, and it has faster growth potential.

One of the more interesting questions is how exactly Verint—which employs 6,000 people—will split, and who will head the independent companies. Some of the complaints made by Verint's shareholders were aimed at the company's eternal CEO, Bodner. Many feel he has continued Comverse's corporate culture, for better and for worse, and his decision to draw ostentatious compensation year after year has raised eyebrows, especially considering Verint's performance. Over the past five years, Bodner received total compensation of $144 million, and according to company documents, he is entitled to a $20 million golden parachute if he leaves the company as a result of a control change.

And one last note: historically, the separation of one company into two to create value for shareholders always seems promising on paper, but not many companies actually succeed in the long run. In Verint's case, the move could work out thanks to the thriving cyber market, but living up to that promise will depend on who is chosen to head the company.