Do Not Throw Away Your Shot to Enjoy Hamilton Just Because You Cannot Hear It
Tel Aviv-based startup GalaPro develops an app that makes live shows accessible for the blind, the deaf, and the hearing impaired. It is currently being used in 90% of Broadway musicals
Imagine coughing up several hundreds of dollars for a ticket to Lin Manuel Miranda's critically acclaimed Broadway musical Hamilton only to find yourself unable to experience it fully. Whether you are visually impaired, deaf, hard of hearing, or still learning English, enjoying a broadway show used to be a nearly impossible task, until recently. In comes Tel Aviv-based startup GalaPromter Ltd. taking the stage by developing an app that makes live shows more accessible.

GalaPro's app offers several different services, including closed captioning, dubbed translations, and sound amplification for those who are hard of hearing but not deaf, Yonat Burlin, the company's CEO said in a Sunday interview with Calcalist.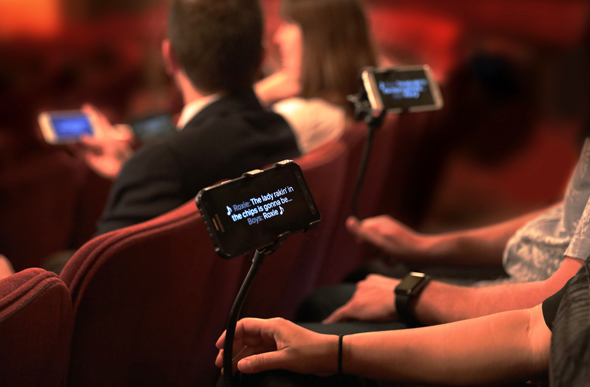 GalaPro app in use. Photo: GalaPrompter

The app's closed captions narrate the words said, state who said them, and describe the various sounds made as part of the show including shots fired and slammed doors. For those who are visually impaired, the app also offers audio narration of what is appearing on stage.

The offerings vary by show, depending on what the venue wants to offer, Burlin said. All content is provided in real-time, using speech recognition technology, taking into account possible lags, she explained.

According to Burlin, GalaPro's app is currently being used in about 90% of Broadway musicals including Dear Evan Hansen, Chicago, and Phantom of the Opera. The app is also in use in the U.K. and in Canada.

The show where the app is most widely used in is Hamilton, Burlin said. Since the historical epic is mostly told through rap, some audience members use the subtitles to follow along, even if they have no problem hearing it, she added.

Because the app is used during live performances, it is designed to be incredibly dark as to not bother other viewers, Burlin said.

Founded in 2015, GalaPro has raised $3 million to date and employs a team of 12 people in Tel Aviv and New York.

The company is also currently preparing for its first pilot with a U.S. film festival in March 2020.