Offensive Cyber Technologies Should not Become Commercial, Says Former Government Exec
Boaz Gorodissky, former head of the technology unit at Israel's Prime Minister's Office, spoke Monday at a panel held as part of Calcalist's Cyber 2020 conference in Tel Aviv
Offensive cyber technologies are potentially devastating weapons that should not be developed for commercial purposes, according to Boaz Gorodissky, former head of the technology unit at Israel's Prime Minister's Office.

Gorodissky, who is also the co-founder and chief technology officer of Herzliya-based XM Cyber Ltd., spoke Monday at a panel hosted by Calcalist reporter Meir Orbach. The panel was held as part of Calcalist's Cyber 2020 conference at shared office venture Labs at Tel Aviv's Azrieli Sarona tower.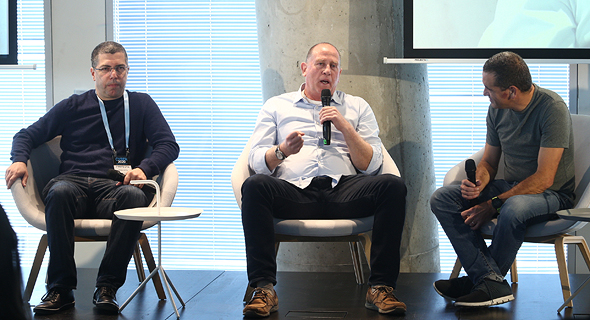 Arik Kleinstein (left), Boaz Gorodissky, and Meir Orbach. Photo: Orel Cohen

"There is a very real threat that the technology will fall into the wrong hands, of dark regimes, for example, this has been known to happen," Gorodissky said. Gorodissky said he was not a fan of Israeli companies dealing with offensive cyber technologies because it is a thin line and they develop lethal zero-day scenarios for a profit. "It may be legal, but I don't like it," he said. As long as these technologies remain in the hands of the government, he said, they can be regulated.