Surgical AR Company Augmedics Receives FDA Clearance
The company's headset projects X ray-like 3D visualization of the patient in real-time, allowing surgeons to see through the patient's skin, muscle tissue, and bone
Israel-based Augmedics Ltd. has received the U.S. Food and Drug Administration (FDA) 510(k) clearance for its augmented reality headset for surgical procedures, called xvision, the company announced Monday.

The headset projects X ray-like 3D visualization of the patient in real-time, allowing surgeons to see through the patient's skin, muscle tissue, and bone. The imaging is projected onto the surgeons' retina using the transparent display headset, allowing surgeons to simultaneously look at their patient, as well as seeing the necessary navigation data without averting their eyes to a remote screen.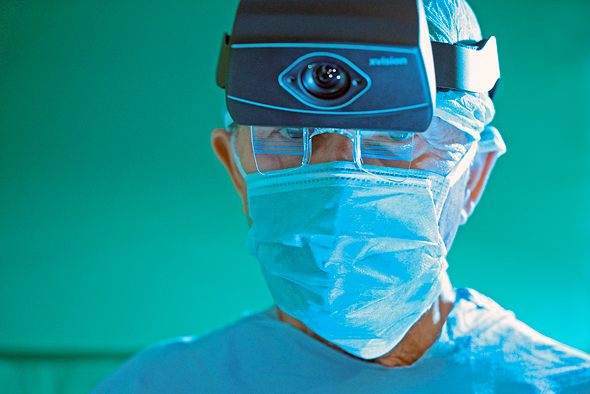 Augmedics' xvision headset. Photo: Augmedics
The headset is intended for use in spinal and pelvic surgeries.
Clinical trials of the headset in minimally invasive spine surgeries have been underway in Israel since the summer of 2018, Augmedics' CEO Nissan Elimelech said in an interview with Calcalist earlier this year.
Founded in 2014, Augmedics is based in the northern Israeli town of Yokne'am. The company has raised $8.3 million to date, in addition to the $2.4 million of grant funding the company received from the Israel Innovation Authority, according to Pitchbook data.