Impact Investment
Enhancing Educational Technologies—Through Video and Games
Innovative auxiliary tools for teaching and improving digital literacy have a positive influence on the education system. Eureka World and Annoto are excellent examples of technology companies with a significant impact on pupils, teachers, and the world of learning
Our world is characterized by technological changes that influence every sphere of our daily life. In its endeavor to prepare school pupils for the future world of employment, the education system is required to harness technology that will help students develop the digital skills they need to succeed. The students must acquire learning skills and learn how to work with one another, be active partners in the learning process, and make use of different investigative and creative technologies.

Israel is home to various educational initiatives developing innovative technologies that seek to enhance the quality of school education and learning and to make them readily accessible to all. In addition to the technological challenges, companies in this field contend with need to find investors and make their products profitable. A new review by the Israel Innovation Authority on impact investment in the education sector focuses on two startups—Eureka World and Annoto—as an example of technology companies with a significant impact on pupils, teachers, and the world of learning.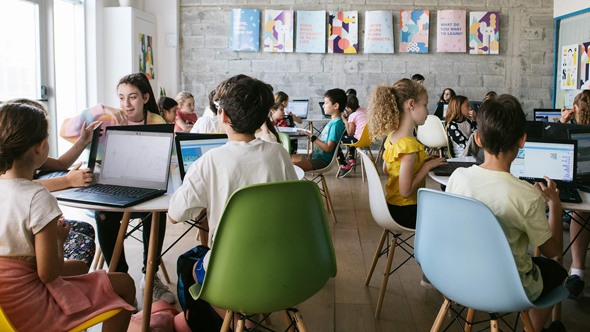 Students. Photo: Alan Tzatzkin

The world of education and teaching is advancing rapidly and is preparing pupils for the 21st century. In order for this process to succeed, it is essential to adapt the pedagogy to the changing reality and to develop relevant skills that will enable pupils to function optimally in the future. Use of video clips and online courses for learning, training, and education has increased over the years because of their widespread accessibility—both in terms of time and of place. However, the lack of a physical learning experience and the difficulty in ensuring and assessing the students' understanding of the study material have shown significant disadvantages.

Hen Eytan, Kirill Slavkin, and Genadi Sokolov encountered these disadvantages as well when taking digital courses during their joint service in the Israeli military's Unit 9900 and during their subsequent years of employment. The solution they created is Annoto ("to react to" in Latin)—an educational startup they co-founded, and which transforms passive watching of a video into an active collaborative and social learning experience. Annoto aims to increase learner involvement, enhance both communication between the students and the quality of video learning, and provide meaningful insights for the organization and teachers about the students' level of understanding. Annoto adds an interactive layer of dialogue onto the video, allowing the pupils to conduct a discussion at any point during the class. This dynamic information layer of opinions, questions, and answers includes the ability to summarize important points in a personal notebook and enables all students to revisit the lesson, thereby learning more about the content created and added by other participants.

"Many of the advantages of the physical classroom learning experience, where the students discuss things among themselves, help each other, and study together, and where the teacher can determine the level of understanding of both the class and each individual student, simply don't exist with online classes," Slavkin explained. "The teacher is not always aware of each individual student, the students don't communicate with each other, and the content consumption is one-directional—a difficulty that has been termed the 'loneliness of the long-distance learner.'"

The growing recognition of human capital as today's most important resource and of the consequential need to invest in and cultivate it, has led to a dramatic change in organizational culture in recent years. In implementing this approach, termed EX (employee experience) management, organizations are increasingly emphasizing employee learning and professional development via educational film-clips and online courses.

"Annoto offers a solution to all these problems by adding an interactive layer onto existing video film-clips that are played on a variety of media without any change in the organization's infrastructure or work processes. In practice, after adding Annoto to the system, all the training video-clips become interactive and the training department can monitor their use and efficiency," Slavkin mentioned.

"This is a huge and rapidly growing market because of the changing perceptions about learning. In reality, the labor market is also a scene of constant learning. The concept of "learning" does not relate only to math exercises or literature lectures but also to the guide for changing a lightbulb, a preparatory class for the psychometric exam, and to ongoing information that employees need to learn in order to remain updated," Slavkin said.

Today, Annoto works with a large number of entities in Israel and abroad and offers support in 28 languages. The company recently won first place in the world's largest learning technologies conference, BettShow London. This is an achievement on a national scale because it was the first time an Israeli company has won this award and gained Israel international recognition as a country that promotes innovation in the field of learning.

Annoto provides a solution for short two-minute video clips of the psychometric exam and MOOC (massive open online courses) boasting thousands of users. One good example is the Digital Israel Campus. "We cooperate with the Innovation Authority and the Digital Israel initiative," Eytan explains. "The campus is Digital Israel's flagship project and constitutes a national online learning platform onto which the country's leading universities upload their best courses free of charge. This means that anyone can enroll for a course in which hundreds of thousands of shekels have been invested, thereby providing equal opportunity for those living in the periphery and helping to promote education for all. The Innovation Authority's support solved a significant problem and enabled us to create and develop the platform."

According to Patricia Lahy-Engel, senior director of social research and development at the Israel Innovation Authority, "the Innovation Authority attributes great importance to impact investments made with the aim of creating measurable social or environmental yield alongside a financial yield. These investments provide capital used to create solutions for social or environmental challenges, such as renewable energy, sustainable agriculture, and access to basic services including health, education, and attainable housing," Lahy-Engel said in the Innovation Authority review.

The Innovation Authority operates a number of programs aimed at contending with public and social challenges, such as the joint Innovation Authority-Digital Israel Initiative 'GovTech' (digital government) program that encourages and assists entrepreneurs and corporations offering innovative technological solutions for public sector challenges in the fields of education, health, welfare, economics, law, local government, and others.

A Multi-participant Community—Creation and Commerce

Eureka World is an education technology company that enables joint creation and learning in multi-participant 3D worlds that also combine physical interfaces such as 3D printers, robotics controllers, VR headsets, and others. During the last three years, more than 150 teachers have served as mentors for students participating in Eureka's 3D worlds.

"Eureka's vision is to create a human study companion in augmented reality and to utilize the wonderful capabilities of 3D in new worlds, without losing the human connection and the active community," explained Shabtai Kaminer, one of the company's owners, who in 2014 joined up with Uri Shapira, a veteran technology and media expert. Together, the two founded and developed Eureka as a virtual domain that enables 3D creation and learning and harnesses technology in the service of pedagogy.

"We conform to the definition of 3D3C domains," Kaminer said, "because learning in virtual worlds and 3D domains includes a multi-participant community, creation, and commerce. The rules of the game are simple and enable us to provide added value to the creative process, which is the core issue. We have progressed even by connecting everything to the world of 'making' via 3D printers, robotics, and electronics. This is the ideal environment in which to facilitate the learning of 21st century skills. The mainstay of learning is done at school and then continues at home. After all, there is no reason why learning should be restricted to a 45-minute lesson in the classroom."

The technological platform is not intended just for students. In the kindergarten teachers' program at Beit Berl, for example, the participants chose to use Eureka's technology to design a dream garden, for pedagogical development, research, and other purposes. "We instruct the teachers and they instruct the students," says Kaminer. "Eureka World has 12,000 registered members, and last year we operated at 100 schools, from 4th grade up to university. Next year, we intend to expand our activity to dozens more schools, both in Israel and abroad."

"We were extremely pleased that the Innovation Authority identified the potential right from the outset and even awarded us a follow-up grant. We simply couldn't have progressed without this support. In the world of educational technology, it takes time until you see profits and the product returns its investment," Kaminer said.

The article was written in collaboration with the Israel Innovation Authority, the Israel governmental tech investment arm.