Impact Investment
Impact Investments That Create Employment and Change
Protecting the eyes of diabetics, the world's first property management computer, and a platform for smart beauty tips—three technological developments launched by women, ultra-Orthodox, and Israeli-Arab entrepreneurs
Just like any startup company in its early stages, the biggest challenge for female entrepreneurs and those from Israel's ultra-Orthodox and Arab sectors is raising capital. These entrepreneurs typically lack tech industry networking connections from the army, school, or childhood youth movements to help them overcome the financing challenge. "Expanding support for technological initiatives of Arab and ultra-Orthodox entrepreneurs provides a tailwind to their continued successful integration into Israeli high-tech," Dr. Ami Applebaum, chief scientist at the Israeli Ministry of Economy and Industry and the chairman of the Israel Innovation Authority, said.

According to Applebaum, these impact investments also "encourage research and development and assist in realizing the Israeli economy's full innovation potential. There have already been impressive success stories, and we want to see even more entrepreneurs benefitting from these specially tailored tools on their path to success."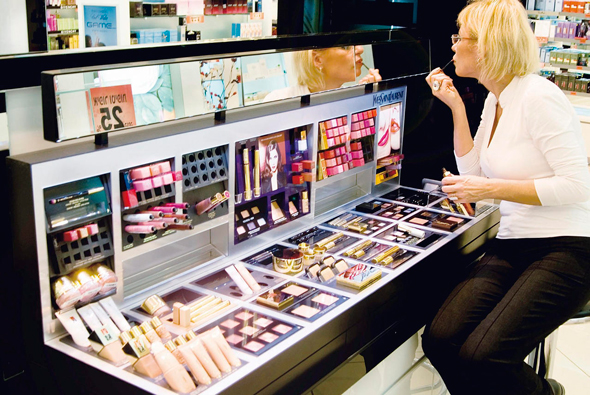 Makeup. Photo: Ariel Besor

A new review by the Innovation Authority details the benefits that come from dedicated impact investments for various sectors of Israeli society. This program, incorporated under the Early Stage Companies Incentive Program, offers preferential conditions for female entrepreneurs and for those from the ultra-Orthodox and Arab sectors and is intended for startups interested in developing and promoting an innovative technological initiative and penetrating the market while recruiting investment from the private sector.

Protecting the eyes of diabetics

Inas Said's Rise Nano Optics is a good example. Said, the company's founder and CEO, has 25 years of experience in working with large technology companies such as Nokia, Ericsson, Siemens, Stratus Technologies, and ECI Telecom in Germany, the U.S., and Israel. During this period, Said acquired a broad academic education in electrical and electronics engineering, in business management, communications, science and telecommunications networks, and in international finance and business administration.

After returning to Israel 15 years ago, Said turned to founding startups. His initial venture was Galil Software in Nazareth, a startup in the software field, which at the time was the first initiative of its kind located in the Israeli Arab sector with the aim of integrating Arab engineers and academics into the tech industry. Said subsequently founded several other companies in the Arab sector, including Amwal Financial Services, which focuses on financial services for insurance companies, and Sensai, which use artificial intelligence for analyzing network behavior anomalies in data centers.

The startup company Rise Nano Optics (until recently called DCV Pro) was founded by Said in late 2017 with the support of the Innovation Authority. The company develops a medical device called Eye Guard that reduces the retinal damage suffered by diabetics and protects the eyes against the development of cataracts and diabetic retinopathy, eye diseases that can potentially result in blindness. Eye Guard's innovation is in both the device itself and in the medical approach: the device controls and weakens the intensity of the light entering the eye and blocks certain wavelengths via use of a smart optic filter. The first generation of the product was based on a photochromic filter with a sensor for measuring light intensity, and was developed after initial research at the Technion Israel Institute of Technology.

Although the lenses worked well, their unique and prominent color dissuaded diabetics from using them as they easily identified users as suffering from the condition. "Thanks to this support, we were able to invest in the development of the product's second generation, which is based on nano-technology and not characterized by a specific color," Said explained. "We achieved this breakthrough together with the Technion's Faculty of Medicine while the optic breakthrough was made via collaboration with the Nano-Technology Laboratory at Ben Gurion University."

Said takes pride in his success at enlisting investors from the Israeli Arab sector—accountants, physicians, lawyers, and businesspeople. "The financing comes mainly from investors in the Arab sector of society."

Technology with a Significant Impact

Elisha Cohen is an ultra-Orthodox tech entrepreneur with a background in technology product marketing. Cohen, who comes from a family of 14 siblings, grew up in an environment in which startups did not exactly enjoy a place of prominence. "I entered the tech field at a young age and despite gaps in my education, I was quickly drawn to the field of entrepreneurship,'' he said. "What motivated me was the desire to create a technology that would improve our lives, to create an impact."

Cohen founded a company in the wedding industry and then another in the video sector. This latter venture failed but proved to be an experience that, as he said, taught him an important lesson: how to bounce back from a failure. "And then, in 2014, I founded RunMaxi (formerly called Door-Bell). This is a system that uses AI, cloud technology, and big data to automate the world of property management," he explains.

"The technology we developed enables us to manage assets almost automatically and is completely compatible with all types of property or client. Our idea enables online management of all aspects related to the property asset, including payments, without the need for a large staff.

During the process, Cohen discovered that this is in fact a huge global market valued at billions of dollars a year. "We raised capital from several entities, including two banks, and designed a product we called 'Neighbor' that allows the digital management of property assets. We started out with four central features and have now expanded to several dozens. The initiative targeted independent property managers and subsequently also companies managing property on a large scale."

"After two years, when we were already managing several hundred thousand residential assets, we realized that clients need personalized service and began to develop a new version that will enable each user to select and adapt the system to his individual needs. After launching the new product on January 1, 2018, our client list grew dramatically but then we discovered that even though each client supposedly had individual needs, all of them ultimately reduced their preferences to the same parameters. In other words, they all wanted more or less the same tool. We decided to teach the computer to do everything the clients have been doing and to cut our costs."

At this stage, Cohen applied to the Innovation Authority, which approved the idea, thereby enabling him to develop a new technology—a prototype of the world's first computer capable of managing property assets. "We purchased one of our own clients—an Israeli management company—and together offered the property management computer to thousands of clients at half the cost of the traditional property management method," Elisha says. "RunMaxi's system is simple and constantly accessible from any location, allowing transparency and user-friendly monitoring of all the financial and property-related data. The uniqueness of our product is that the client doesn't need to use our specific app in order to benefit from our service. He can do so from any of the existing popular platforms on the market. In practice, Maxi is a 'bot' with the human understanding that the clients can 'chat' with via SMS, WhatsApp or Facebook, and ask it for a wide range of services."

Increased Grants for Women

According to Israel's Central Bureau of Statistics, although women constitute approximately one-third of the world's entrepreneurs, only 14% of Israeli businesses are owned by women and just 4% of them employ other workers. According to data provided by Tel Aviv-based research firm IVC Research Center Ltd., only 7% of the technology startup founders in Israel during the last 17 years were women. OECD data reveals that startups managed by women receive 23% less money than companies headed by men and they have a 30% lower chance of achieving an exit. Furthermore, more than half of the female entrepreneurs in the technology sector choose to influence and promote initiatives in fields considered difficult to finance— public administration, health, education, and social services. One of the many reasons for this is that initiatives meeting women's and community needs encounter difficulty in recruiting funding due to a lack of familiarity or a lack of understanding of the potential involved.

According to Ayala Miller, head of high-tech human capital development at the Innovation Authority: "The specially designated program is formulated to provide a response to the under-representation of women in the ecosystem and to help them contend with the central challenges facing female entrepreneurs, such as recruiting capital from investors, building and leveraging professional contact networks, and others."

The low female representation, combined with other factors, drove the Innovation Authority's strategic decision to promote women and to create discourse and programs throughout the Authority to promote a diverse and inclusive ecosystem. The Innovation Authority's support of the incentive programs for women, ultra-Orthodox, and Israeli Arab entrepreneurs is supposed to serve as a launchpad for a project's development and commercialization, and for raising further capital from the private sector. The programs' preferential conditions are expressed by the level of the grant awarded for a period of two years. Entrepreneurs accepted into the programs receive a grant of 75% of the approved budget in the first year, up to a maximum of NIS 2.5 million, and a grant of 70% of the approved budget in the second year, up to a maximum total of NIS 4.5 million shekels. The entrepreneur must own at least 33% of the company's shares and must be employed in a full-time managerial role.

Smart beauty advice and makeup tutorials

Mira Awwad-Khreish, an MBA graduate with more than eight years of experience in the fields of business development and strategy, decided in 2019 to switch over to the role of entrepreneur and founded Mirrori with the support of the Innovation Authority's special sub-track for women under the Early Stage Companies Incentive Program. "Mirrori is a platform offering personalized smart beauty advice and makeup tutorials that is based on deep learning technology and big data," Awwad-Khreish explained.

"The platform will allow each user to receive a personal video tutorial that includes tips on how to create the optimum look for her face using the existing cosmetics in her makeup bag." She was joined six months ago by a technology partner, Dr. Matan Sela, a computer scientist and an expert in the field of artificial intelligence and computerized vision. Another of the project's partners is the Yarin Shahaf makeup school, which supplies professional data and knowledge from the beauty world.

According to Awwad-Khreish, the finance approved by the Innovation Authority enables her to bring the initiative to fruition. "I am against cataloging people," Mira said. "I see myself as an entrepreneur, not as an Arab or as a woman, but I strongly believe in the power of women everywhere—in the workplace, in business, and in the world of entrepreneurship. I believe that a supportive environment plays a significant role in a person's decision, and especially that of a woman interested in becoming an entrepreneur."

Awwad-Khreish tells of how her father firmly believed in her ability and always encouraged her to fulfill her dreams and succeed. "And when you add a supportive husband and my passion for the world of entrepreneurship—this field just became a natural choice for me," she added. "The product itself is very relevant for women and that is why I decided to apply for this specific program. In addition to the support provided by the Innovation Authority, I also raised capital from private investors, and we intend to launch the first version of the product in the next few months. We will offer a computer vision-based personalized advisory service that analyzes the user's facial contours and advises her on the best way to apply her makeup accordingly."

The article was written in collaboration with the Israel Innovation Authority, the Israel governmental tech investment arm.