With Increased Demand for Software Engineers in Israel Come Higher Salaries
The average wage of workers in Israel's software industry rose by 23% over the past five years, according to data gathered by Tel Aviv-based tech placement company see.V
The average wage of workers in Israel's software industry rose by 23% over the past five years, compared to a 13% rise in the country's general average wage, according to data gathered by Tel Aviv-based tech placement company see.V. In the last quarter of 2019, the average pay for software developers was NIS 29,175 (approximately $8,395) a month, a 3% year-over-year increase, the data showed.

At the beginning of 2019, there were fears that the political instability, as well as the global trade wars, will slow the tech sector down but these gloomy prospects did not materialize, Danielle Yogev, the head of see.V.'s recruitment team, said in a recent interview with Calcalist.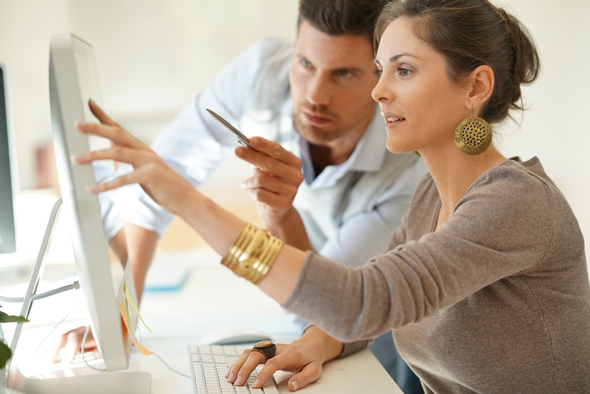 Tech workers (illustration). Photo: Shutterstock

Funding-wise, it was a very good year, she added. In just the third quarter of 2019, Israel-based or linked companies raised $2.24 billion across 142 deals, more than in any quarter since 2013, according to a recent report by Tel Aviv-based research firm IVC Research Center and the Israel office of international law firm Zysman, Aharoni, Gayer & Co. (ZAG-S&W). In the first three quarters of the year, there was a slowdown, but wages continued to climb in Q4, Yogev said.

Israel's ongoing tech talent crunch is sending wages upwards while also forcing companies to be more flexible in their choice of employees, Yogev said. "Our data shows 23% of new recruits in 2019 were over 40, a 5% increase compared to 2018," she said. In the past, employers were wary of hiring older workers, fearing they will have difficulty finding their place within the young culture characteristic of startups, she added. Now, they are more afraid the position will remain unmanned, Yogev said, so you get a more diverse workforce age-wise.

In 2019, 31% of applicants were hired at salaries that exceeded their expectations, according to see.V's data. Of those surveyed, 45% received wages lower than the sum they expected.

Those earning the most in 2019 were algorithm, DevOps, and Python developers whose monthly wage stood at an average of NIS 32,000 (approximately $9,200), according to see.V's data. The average pay for most software fields rose, with that of Python developers presenting the most significant rise, by 10% in the last year and 19% in the past three years. Significant increases in the last three years were also registered for DevOps engineers and frontend developers, 8% and 7%, respectively.