How the Lives of Israeli Tech Workers Changed Over the Past Decade
A look at the changes in the employment conditions of tech workers in Israel presents a broader view of the industry as a whole
Israel's tech sector has changed significantly over the past decade. However, despite increased wages and improved benefits, it is still lagging behind in the inclusiveness of women and minority groups.

Changes to the employment conditions of tech workers in Israel can present a broader view of the industry as a whole. Discussed below are the changes in five major aspects of the local tech sector, highlighted by the state of its employees.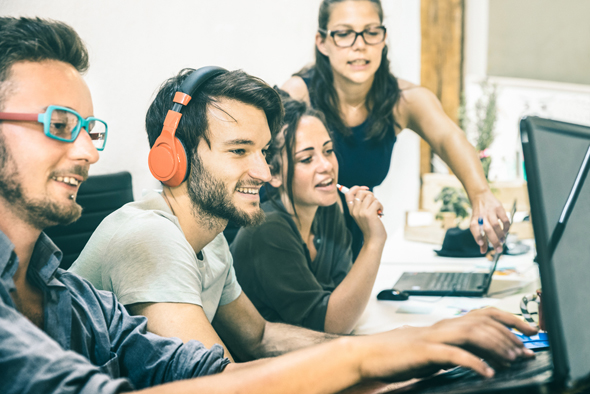 Tech workers (illustration). Photo: Shutterstock

Wages went up. Way up

In 2011, the average pay in the tech sector stood at NIS 20,787 (approximately $5,400 at the time) a month, according to data from Tel Aviv-based tech human resources company Ethosia Ltd. In 2015, it was already NIS 23,607 (approximately $6,000 at the time) a month, and in 2019 it reached NIS 28,050 (approximately $8,100) a month, the data showed. These increasingly high wages go hand in hand with a growing demand for workers, due to multinational companies setting up shop locally and offering better and better conditions.

Demand for workers grew

Following the financial crisis of the late 2000s, the sector began to recuperate, as seen at the beginning of the decade with a 10% increase in the number of job openings, according to the data. By the end of the decade, the number of open positions grew by an average of 20% a year, amounting to 16,095 positions needing to be filled in 2019, compared with 10,055 in 2015, and 4,584 in 2011.

The tech sector employs 307,000 people, or 8.7% of all employees in Israel, according to a report published by Israel's government innovation investment arm, the Israel Innovation Authority (IIA) in August.

Globally speaking, this is not a lot of people, it is about the number of engineers graduating each year in India, Ethosia CEO Eyal Solomon said in a recent interview with Calcalist. The talent crunch is being addressed through an attempt to integrate the ultra-Orthodox (Haredi) and Arab minorities into the workforce, but that is just one challenge faced by the industry, he said. According to Solomon, the main issue is that the sector is focused on export, leaving the local industry dry.

In addition to the number of openings, there are two measures that indicate the growing demand for tech workers in Israel: the number of newly recruited employees and the number of workers who choose to quit their jobs.

The number of new recruits among tech workers, grew from 10.5% in 2011 to a record high 18.5% in 2015, before dropping to 9% in 2019, still considered relatively high, according to Ethosia's data. Of the people who left tech positions in 2019, 11% chose to resign willingly. The number of people resigning from tech positions is indicative of how certain they are of their ability to find another, often more lucrative position. In 2017, the number of people who quit their jobs amounted to 16% of all employees who left their positions, compared to 13% in 2018, and just 7% at the beginning of the decade, the data showed.

Asked for their reasons for resigning, 18% of those questioned by Ethosia, stated they were looking for a new technological challenge, 15% said they left because they could not see themselves advancing or continuing in the role, and 13% said they were unhappy with the pay or benefits.

Perks changed

At the beginning of the decade, a company car was considered an industry standard. As the cost is now deducted off the employee's salary, it has plummeted in popularity among tech workers over the years. If at the beginning of the decade, 80% of tech workers requested a company car, by its end, less than 20% did so, according to Ethosia's data. This is still relatively high, as according to Israel's Central Bureau of Statistics (CBS), less than 9% of employees in Israel have a company car.

Tech workers' lunch perks, on the other hand, tripled over the past decade. If in 2010, the average tech employee received less than NIS 300 (approximately $85 at the time) a month on a chargeable lunch card that could be used at local restaurants, they now get over NIS 900 (approximately $260) a month to spend, Ethosia's data showed.

Growing awareness to a better work-life balance led tech companies to offer employees more paid vacation days, from 15 a year in 2010 to 18 in 2020, while the legal requirement remained at 12 days a year, the data showed.

When it comes to working hours, however, tech workers tend to burn more of that midnight oil. While Israeli law defines a full-time position at 42 weekly hours, or 8.5 hours a day, the average tech worker put in 12 hours a day in 2010. This has shown some improvement as the average tech employee's workday now lasts 10.5 hours, the data showed.

With the continuing tech talent crunch, employees are also well compensated when they help their companies recruit. In 2010, a recruitment bonus for an employee successfully recommending a friend stood at up to NIS 1,000 (approximately $265 at the time), but now they would stand to receive thousands of shekels in cash or perks, such as paid vacation packages.

Women are still left behind

One field that has shown nearly no improvement in the past decade is the employment of women in tech. According to CBS, just 109,400 workers, about a third of all tech employees in the country, were women. These numbers have changed only slightly since the beginning of the decade.

Even among the women working in the sector, most are employed in non-technological positions. Female workers account for 75% of all human resources workers and about 50% of user interface (UI) teams, but just 9% of software architects, and only 12% of system engineers.

In addition, according to data released by the Israeli Ministry of Finance in 2019, in tech, like in most industries, women are paid less. Among tech workers belonging to the lowest pay grades of just several thousands of shekels a month, 60% are female, while women hold only 13% of lucrative positions paying NIS 40,000 (approximately $11,500) and up per month. According to the ministry, the tech industry also has an unofficial "mommy tax" that brings the wages of women with children even further down, by 9% for one child and 15% for two. Men's wages are unaffected by their parenting status.

While we now see more awareness towards the under-representation of women in tech, it is still not manifested in an increase in the number of employed women, according to Inbal Orpaz, a researcher and founder of the #WomanInTech initiative that promotes female professionals within the sector. "The two most important things to consider are how to increase the number of female candidates for tech positions on the one hand, and how to keep women already working in tech from leaving the field on the other, Orpaz said in a recent interview with Calcalist. Companies are aware there is a problem, but there is still a long way to go before they understand the reasons women tend to avoid tech and address them, she said.

One such issue is motherhood and the lack of a healthy work-life balance in tech, which affects women more as they are often burdened with more household duties, Orpaz said. A lot of women also report feeling like they have to be "part of the gang" in order to advance, but have difficulty finding their place in a dominantly male environment, she added.

The most sought-after fields

The changing trends in tech can be viewed through the demand for professionals in different fields.

2018 saw an 18% increase in demand for full-stack developers, 13.5% for software developers, 13% for server-side developers, and 11% for IT, according to Ethosia's data. A year earlier, cyber reached a highpoint with a 47% rise in the subsector's demand for engineers. Also trending were fintech, blockchain, and artificial intelligence. The hottest trend, however, was big data, which saw a 70% rise in demand, at the time.

At the beginning of the decade, the most sought after employees were mobile developers, who in 2012 saw a 25% increase in demand year over year, the data showed. That year saw a 10% decline in the demand for software developers and a 25% decline in the field of human resources.