CES 2020
Younger Sports Fans Want to Be a Part of the Narrative, Says Intel Sports Exec
Dudi Ben-Auen, head of research and development for Intel Sports and general manager of the department's Israel office, spoke to Calcalist at the 2020 CES tech exhibition
At a press conference held Monday ahead of the official opening of the 2020 Consumer Electronics Show (CES), Intel presented its take on the future of sports viewing. After slow motion, reverse angel, hover cameras, and 360-degree views, Intel's new technology will let each viewer—on a television set, a tablet, or a smartphone—become a part of the game and watch it from an angle of their choosing. Say you feel like watching a game through the eyes of soccer player Lionel Messi; dunk a basketball with LeBron James; or score a touchdown with Tom Brady—all you have to do is remember the phrase volumetric video.
The younger generation interacts with content differently, it wants to be the storyteller, and be much more involved in its creation, according to Dudi Ben-Auen, head of research and development for Intel Sports and general manager of the department's Israel presence. The best examples for this are e-gaming and the popularity of Amazon-owned video game streaming company Twitch Interactive Inc., Ben-Auen said in an interview with Calcalist. Generation Y is slowly abandoning television sets and moving on to consume content through tablets and smartphones, he said. "This is new for everyone in the industry and Intel Sports is working with clients to examine the best ways to make content relevant for the Y generation."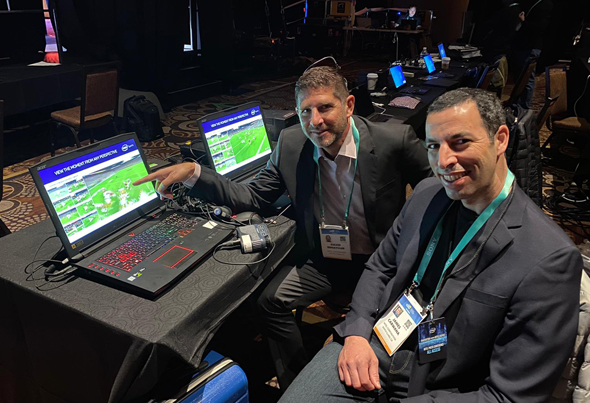 Intel SPorts' Dudi Ben-Auen (left) and James Carwana. Photo: Intel
The conversation with Ben-Auen took place backstage after Intel's press conference at CES. During the conference, James Carwana, a vice president at Intel and the general manager of Intel Sports, gave his speech on stage. On the screen behind him, football players were running on the field, followed by the camera in what looked more like an excerpt from a live-action film or a computer game than from a traditional sports broadcast. It is the product of Intel's new volumetric video technology—a cloud-based software that promises to make the use of multiple cameras in sporting events obsolete. The technology was developed on top of Intel's existing products, already in use by the NBA, the NFL, and some of Europe's leading soccer teams.
Intel Sports' technology is based on several acquisitions, most prominently on its 2016 acquisition of Tel Aviv-based Replay Technologies Inc. Replay developed a technology that allows viewers to see footage from an angle where no camera was placed, using a predefined array of virtual cameras spread across a given space, like a stadium, for example. "This whole thing started from a bunch of entrepreneurs sitting at a pub to watch the game," Ben-Auen said. "Suddenly there was a goal and they thought it could be cool to see it from the goalie's perspective."
When Intel Sports started developing this technology, it took it three minutes to process a single frame into a volumetric frame, Ben-Auen said. Between 2017-2019, Intel Sports development teams in the U.S., China, and Israel dedicated all of their efforts to aggressive development, managing to bring down the processing time to 30 seconds per frame. "When we had to choose between speed and quality, we went for speed at this point, hoping to get it to where we want it to be time-wise, and then take care of the rest," he said.
In the past year, the technology got a major boost when the company uploaded it to the cloud. With cloud computing, it can now analyze 30 frames per second. This is the equivalent of 67 gigabytes of information coming in every second from each of the 38 cameras spread around the stadium. "Now, what we want to focus on is quality," Ben-Auen said. While the quality appears as fine to the average user, some clients and users may still view it as sub-par, he said.
"We are obviously limited by the laws of physics, but I want that to be the only thing that is standing in our way," Ben-Auen said. Making the viewers at home feel closer to the field is magic, he added. This could be achieved by the ability to move around in the stadium and see the game from any angle or by simulating exactly what they would hear were they in their favorite seat, he said.
Intel Sports has been working with large clients for two years, but until now has only produced short video clips, according to Ben-Auen. Now, the company is working with the various leagues to adjust its technology to their needs through focus groups and experiments.
Intel Sports' goal in the next few years, alongside improved quality and shorter lags, is to bring its product to digital platforms and over the top (OTT) premium content services and become a major source of content for football, basketball, and soccer fans, Ben-Auen said. Other than that, according to him, the sky is the limit and the technology can be used to help resolve judging disputes or assist coaches and players in training.
You can show Messi all the moves he was involved in from his point of view, and he can analyze them according to what he knew then and what he knows now about the end result, Ben-Auen said. "At the end of the day, the goal is not to glorify the athletes but to teach them," he said.
Today, there are three major aspects to sports analysis—what happened to the athlete during the game, what the coach had to say about it, and what the result was, he said. Intel Sports' technology adds a more empirical aspect, Ben-Auen said, providing professionals a way to see what was happening through the player's perspective.
This technology could potentially be the basis for collaborations with other companies and startups that could use the data it produces to develop new technologies. "We're not there yet," Ben-Auen said, "we are still working on our own product, but it is definitely something we are looking forward to—it could happen tomorrow or in a year, but as time passes we will have a lot more collaborations, innovation, and use-cases available to the public."
The author was a guest of Intel subsidiary Mobileye at CES.