Future of Money
Migrant Workers Are a Growth Engine for Developing Countries, Says Rewire CEO
Guy Kashtan, founder and CEO of mobile banking startup Rewire, spoke Monday at Calcalist's The Future of Money conference in Tel Aviv
Immigrants are a growth engine for developing countries, according to Guy Kashtan, founder and CEO of mobile banking startup Rewire Ltd. Kashtan spoke Monday at Calcalist's The Future of Money conference in Tel Aviv.

Tens of millions of people leave their countries to work towards a better future for themselves and their families, and these people generate nearly $1 trillion a year, Kashtan said. "One could expect that there would be banks vying for a market of this size, but in reality, many immigrants handle their finances in cash or in alternative financial systems that damage their finances," Kashtan said.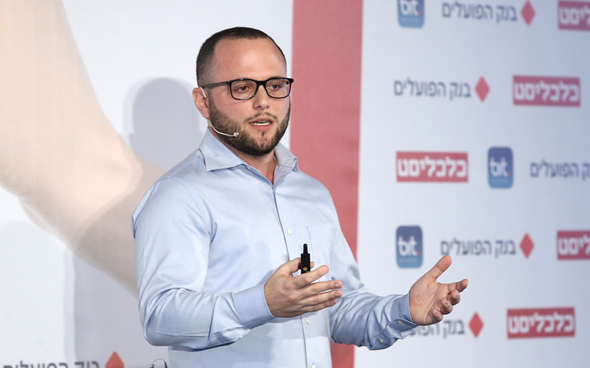 Guy Kashtan. Photo: Orel Cohen

For the developing countries from which these immigrants hail, such as the Philippines and Nepal, they generate more than 10% of the gross domestic product (GDP), Kashtan said. Work migrants use technologically advanced financial services, he said. Banks in their home countries see them as valuable clients, but in the countries where they arrive to work, banks have little interest in them, Kashtan said.

Founded in 2015, Israel-based Rewire develops a mobile banking platform for international cash transfers that caters to foreigners without a local bank account, allowing them to deposit cash in one country and send it to another. Rewire's service supports money transfers to countries such as the Philippines, India, Thailand, and Russia. The company has raised $12 million from investors including Viola FinTech, the fintech investment vehicle of Israel-based Viola Group, and Euronext-listed bank BNP Paribas SA.

"We built a banking service that can answer the unique financial needs of immigrants by allowing them to manage their assets in more than one country," Kashta said. "We offer convenient, accessible service in the client's native language, make advanced financial services available to migrants, and encourage savings and financial independence," he said.

According to Kashtan, Rewire handles $300 million annually for 70,000 registered customers.