Future of Money
Financial Regulation Must Not Hurt Business, Says Former Israeli Official
Yehuda Shaffer, a former deputy state attorney for financial crime at the Israeli Ministry of Justice, spoke Monday at Calcalist's The Future of Money conference
Anti-money laundering regulations must not be allowed to hurt business, according to Yehuda Shaffer, a former deputy state attorney for financial crime at the Israeli Ministry of Justice.

Shaffer spoke Monday in a panel hosted by Calcalist reporter Sophie Shulman, as part of Calcalist's The Future of Money conference, held in Tel Aviv in collaboration with Israel's Bank Hapoalim. Also speaking on the panel, which was focused on money laundering in digital payment services, were Ornit Shinar, head of venture investments in Israel for financial services multinational Citigroup; Tal Slobodkin, managing partner at Israel-based venture firm StageOne Ventures; and Netta Marrom, CEO of forensic fintech company Next Dimension.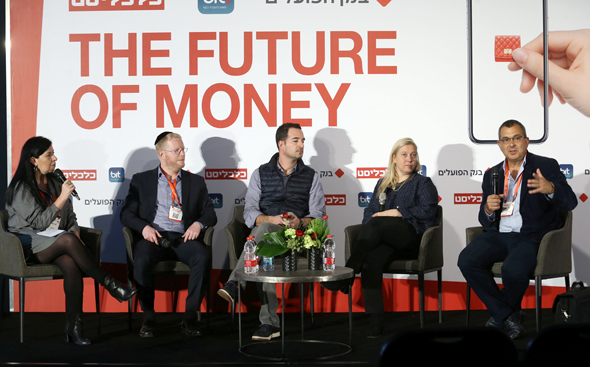 Sophie Shulman (left), Netta Marrom, Tal Slobodkin, Ornit Shinar, and Yehuda Shaffer. Photo: Orel Cohen

"We should strive to identify problematic cases or clients but our working assumption needs to be that some fraudsters will get away," Shaffer said.

It is hard to move forward in Israel because everyone is too careful, Slobodkin said. Banks should be encouraged to take risks; the bigger the digital payment sector becomes, the use of cash will decline, he added. Where there is no regulation there will be crime and money laundering, he said, adding that this is why digital payments are a positive development. "The real problem is anonymity," he said.

The past decade was the decade of compliance, with banks making extensive hires dedicated to meeting the regulatory demands, Shinar said. The regulator's demands are important but they can become a huge burden on banks, she added. "When we look at regulators we see them as partners but it is sometimes difficult to meet their requirements," she added.

The regulator has the interesting task of balancing between the will to open up the market to competition and the need to prevent criminal activity that is detrimental to society, Marrom said.