Printed Cellulose Burgers: Soon at a Restaurant Near You!
Israeli restaurant chain BBB has partnered with 3D vegan burger printing company SavorEat
Israeli hamburger restaurant group Burgus Burger Bar (BBB) has recently partnered with Israeli 3D hamburger printing startup SavorEat Ltd., the companies told Calcalist. As part of their partnership, BBB will take part in the final stages of SavorEat's product development. Once the company's printed burgers are market-ready, they will be served exclusively—for a limited time—at BBB restaurants. A pilot is planned for mid-2021.

Formerly known as Chef-It, SavorEat is working to develop a machine that can instantly print a vegan burger from a cartridge containing plant-based proteins, fats, flavor components, and cellulose, a fiber that can be manipulated into a variety of textures, including that of beef muscle and fat. The machine is designed to use infrared light to cook the burger as it prints. Should the pilot be successful, BBB plans to have a working burger printer in each of its restaurants.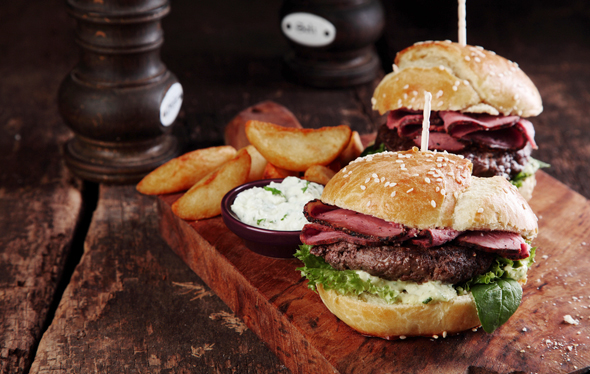 Hamburger (illustration). Photo: Shutterstock

BBB operates some 100 burger restaurants under three brands: BBB, Mozes, and Burgerim. The restaurant group already offers vegan burgers made by U.S. company Beyond Meat. Ahuva Turgeman, general director of BBB, told Calcalist that the partnership is part of the company's efforts to introduce more sustainable products.

SavorEat's technology was developed by Oded Shoseyov, a professor of plant molecular biology, protein engineering and nano-biotechnology at the Hebrew University of Jerusalem and one of SavorEat's co-founders. In an interview with Calcalist held in April 2018, Shoseyov said that the company was about 18-24 months away from being market ready. At that time, a prototype of the burger-printing machine took 10 minutes to print a single burger, and the company was working to cut the printing time down to three minutes.

Racheli Vizman, co-founder and CEO of SavorEat, told Calcalist now that the partnership is an opportunity to speed up and maximize development and promote the company's goal of entering the restaurant industry. "We are planning to rely on BBB's experience in making burgers as well as in running a restaurant chain," Vizman said.