Coronavirus
Israel Shuts Down Non-Essential Activity as Number of Patients Jumps to 200
The country announced more stringent restrictions Saturday, limiting gatherings to 10 people and closing down education institutions and businesses such as gyms, pubs, and malls
Israel is stepping up its coronavirus (Covid-19) fighting measures yet again as the number of confirmed cases reached 200 Sunday morning. On Saturday night, the country announced new, more stringent restrictions. Public gatherings are now limited to 10 people, and people have been instructed to keep a 2-meter distance between one another at all times. The police have already started taking action against businesses that have violated the previous cap 100-person announced Wednesday and opened cases against 20 people who violated self-quarantine laws.

As of Sunday, all educational institutes, including kindergartens and daycares, special education systems, youth camps, and boarding schools will be closed. All nonessential businesses such as gyms and pools, malls, bars, entertainment parks, and cinemas are to remain closed until further notice, and retailers and business owners have warned of the possibility of extensive layoffs as a result. Religious events have been restricted to 10 people. Supermarkets, pharmacies, banks, and health clinics will continue operating as usual, as will restaurants and cafes as long as they only sell take away. Employers have been instructed to prepare for a time when people will work only from home, but are currently allowed to have employees at the workplace as long as a 2-meter distance between all present is kept. Soldiers in non-essential roles might be ordered to remain home, while others have been instructed to prepare for a long stay at the bases.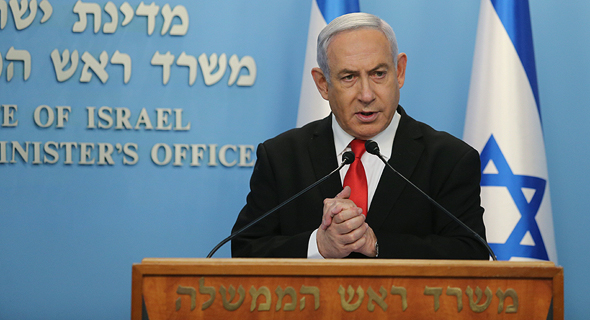 Prime Minister Benjamin Netanyahu. Photo: Alex Kolomvisky

People have been advised against taking public transportation as much as possible and encouraged to limit the number of passengers in private vehicles to one. While public transportation is slated to continue as usual, Israel Railways Ltd. already canceled some of its lines as several of its inspectors entered quarantine after coming into contact with passengers who were later confirmed to be carrying the virus. Hundreds of bus lines have been canceled after the announcement that schools will close, and public transportation companies are already preparing to put thousands of drivers on leave, as the use of general public transportation dropped by 30%. The use of cash will be banned on public transportation as of Tuesday, and only the use of the oyster card-equivalent Rav Kav will be allowed.

In a Saturday evening press conference, Prime Minister Benjamin Netanyahu said that as the pandemic is an evolving event, instructions will continue to change accordingly. "It is not bang and we're done," he said. "I estimate we have the option of not just overcoming the crisis but triumphing over the virus. It requires all of us to adopt a new lifestyle for the needed time, and reorganize to enable steps that will limit the spread of the virus and ensure our health systems can cope." He assured people Israel has enough food stocked up to prevent shortages, after people have started stockpiling non-perishables.

Amir Kurtz and Udi Etsion contributed reporting.