Coronavirus
Israel's Confirmed Corona Cases Reach 250
As infection and mortality rates rise around the world, Israel sees increased infection among its medical staff
The number of confirmed coronavirus (Covid-19) cases in Israel has reached 250 as of Monday morning, according to an update from the Ministry of Health. Of those patients, four have already recovered, four are in serious or critical condition, and 231 are considered to have only mild symptoms.

The number of medical personnel exposed to the virus or infected continues to rise. Among those confirmed to have the virus are a department head at the Chaim Sheba Medical Center at Tel HaShomer, in the greater Tel Aviv area. Her positive test results Sunday sent the rest of her team into home-quarantine. Another high profile infection case is the deputy manager of the health ministry's main virus lab. All of the lab's staff has been ordered into quarantine, meaning the health ministry is now one lab down, though the ministry announced Sunday it is working on bringing in teams from other labs. As of Sunday night, there were around 2,600 medical and healthcare providers in quarantine.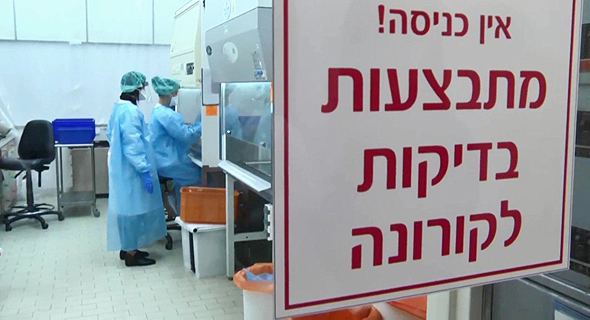 Coronavirus tests. Photo: Amit Huber

On Sunday evening, Health Minister Yaakov Litzman and the Chairman of The Israel Medical Association, Zion Hagay, agreed on opening 500 additional positions for doctors, including interns, that have yet to receive assignments in the Israeli healthcare system. A frequently voiced criticism of the Israeli healthcare system is that it is not lacking in doctors but rather in open positions that would allow their employment. Per Sunday's announcement, "there will not be one doctor who sits at home because they do not have an open position." This decision came in addition to the ministry's recent decision to bolster the staff at the national test labs to enable the analysis of hundreds of additional test kits per day. The ministry is also considering adding six-year medical students to hospital rounds in an effort to lighten the burden.

As Israel's healthcare system struggles with the need for additional manpower, many of Israel's other industries are downsizing. Moshe Yifrach, deputy CEO at the Israeli Employment Service, told Calcalist he estimates the number of unemployed people registered with the agency will grow by 40%-50%, or 60,000-80,000 people, by the end of the week. That means Israel's unemployment rate could jump from 4% to 5.5%-6% within a week. The main casualties so far are Israel's tourism and hotel industries, airlines, fashion retailers, and businesses affected by the recent ban on public gatherings like restaurants and entertainment complexes.

Adrian Filut and Shahar Ilan contributed reporting.