Coronavirus
Israeli Hospitals Video-Surveil Covid-19 Patients Around the Clock
Of the 274 hospitalized coronavirus patients in Israel, only 34 are considered in serious or critical condition, which means nearly 90% of hospitalized cases may be under constant surveillance without medical cause
Coronavirus (Covid-19) patients hospitalized in Israel are being monitored, through visual and audio means, 24 hours a day. In a document reviewed by Calcalist that was handed out at the Meir Medical Center in Kfar Saba, a town in central Israel, patients were informed their rooms are equipped with a camera that records both video and sound, "to be used by staff to monitor their health."

In response to Calcalist's request for comment, Israel's Ministry of Health confirmed the practice, saying it is meant to bring to an absolute minimum the medical staffs' exposure to confirmed patients, thus minimizing the spread of the virus.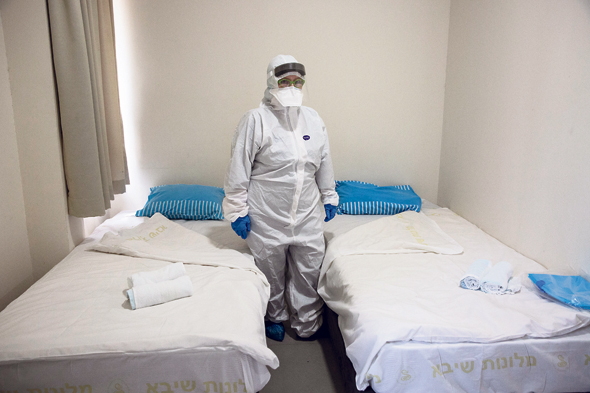 Corona patients isolation room in Sheba Medical Center in Israel (illustration). Photo: AP

The practice, currently implemented in at least two hospitals—Meir and Laniado Hospital in coastal town Netanya—raises serious privacy concerns when it comes to nonsevere patients who are fully conscious and capable of moving about in their confined hospital rooms. Moreover, it could be interpreted as a violation of Israel's Patient's Rights Law. The law dictates patients must be handled with respect and their privacy must be maintained, even during states of emergency or danger.

Of the 274 hospitalized coronavirus patients in Israel, only 34 are considered in medium to critical condition, according to data released by the ministry on Saturday. This means nearly 90% of hospitalized cases may be under constant surveillance without medical cause.

Rotem Levanon, a 26-year-old non-severe coronavirus patient currently hospitalized at Laniado Hospital told Calcalist the surveillance made him feel like a contestant on reality television. Levanon said he attempted to cover the camera and shut down the microphone that was hidden in the ceiling but was instructed to return them to their previous function.

According to the health ministry's guidelines, non-severe patients can be moved out of hospitals and into one of the recently established group recuperation facilities or so-called Corona Hotels, located within existing hotels, left vacant due to the crisis. As these facilities are meant for lighter cases that require significantly less medical attention, no 24-hour surveillance protocol is implemented in them.