Coronavirus
Portable Medical Device Developer Inovytec to Provide Israeli Defense Ministry with 1,000 Respiratory Machines
As coronavirus spreads in Israel, the country's defense industries are called on to assist in the blitz-manufacturing of respiratory machines
Israeli medical device developer Inovytec Medical Solutions Ltd. will provide the Israeli Ministry of Defense with 1,000 respiratory machines as part of the government's efforts to prepare for large numbers of coronavirus (Covid-19) patients, the ministry announced Sunday. The first machines will be delivered in May. The defense ministry has also ordered an additional 1,500 machines to be manufactured abroad according to the specifications of the Israeli Health Ministry. Together, the two orders are valued at over NIS 50 million (approximately $14 million).

"We have received orders from Europe, and we are close to receiving the approval of the U.S. Food and Drugs Administration (FDA) that will allow us to sell the machines in the U.S., but our top priority right now is to answer the demand of the Israeli market," Inovytec CEO Udi Kantor told Calcalist. "We are making an effort now to increase our production capacity from several hundred machines per year to thousands, with the support of the government and other industries, and are preparing for 100% domestic production."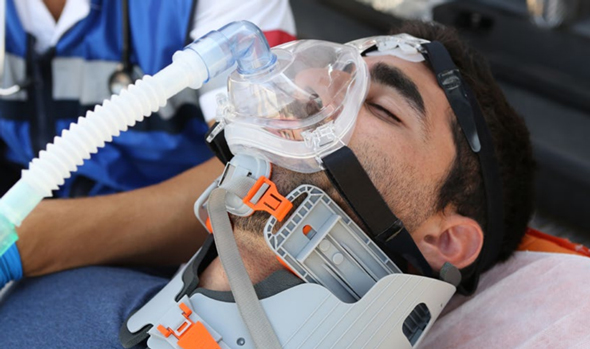 Inovytec's respiratory machine. Photo: inovytec

Inovytec, which is based in central Israeli town Raanana, develops portable medical devices for use in respiratory and cardiac emergencies. The company was founded in 2011 and employs a team of 20. The respiratory machine it developed became available in 2018 and is already being used by the Israeli military's medical corps.

As the coronavirus pandemic spreads in Israel, the country's defense industries are being called on to assist in the blitz-manufacturing of respiratory machines to bolster the country's healthcare facilities. Government-owned defense contractor Israel Aerospace Industries Ltd. (IAI) is currently testing its ability to support the manufacturing efforts of Inovytec's machines. In a statement, IAI said that it is in constant contact with Israel's defense and health ministries to examine ways to leverage the company's technological and manufacturing capabilities in the fight against the Covid-19 pandemic.

The technology research and development arm of the Israeli defense ministry, called the Administration for the Development of Weapons and Technological Infrastructure (Mafat), has formed a Covid-19 emergency team headed by Brig. Gen. (res.) Danny Gold. The team will focus on the accelerated development of technologies for early detection and patient monitoring, and on the development of medical equipment and protective gear for medical personnel. The emergency team includes representatives from the Israeli Innovation Authority (IIA), Ministry of Finance, the Prime Minister's Office, the Israeli Defense Forces (IDF), hospitals, startups and private tech companies, research institutes, and members of academia.