The Majority of Israel's Newly Unemployed: Women, People Under 35
Nearly 600,000 Israelis have signed up for unemployment since the beginning of the month
In Israel, the majority of the newly unemployed—those who lost their jobs either permanently or temporarily due to the coronavirus (Covid-19) pandemic—are women and people under the age of 35, according to government data.

According to data received Monday, the number of Israelis who have signed up for unemployment since the beginning of the month—when government restrictions meant to curb the spread of coronavirus caused many sectors, including tourism, hospitality, and retail, to crash—has reached nearly 600,000. Overall, there are 733,000 registered unemployed people in Israel today, representing an unemployment rate of 17.6%. Of these, 90% have been put on unpaid leave by their employers and could potentially resume their jobs once corona-related restrictions are lifted and the economy bounces back.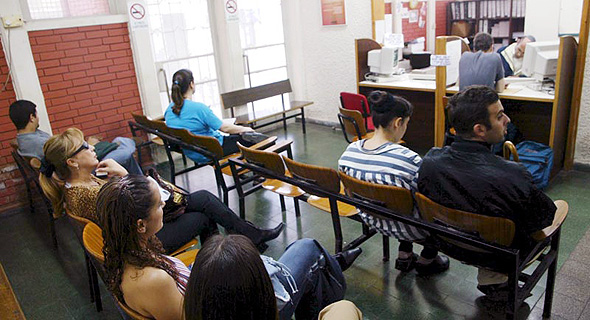 Employment office. Photo: Tzvika Tishler.

According to the data, corona-related unemployment has affected primarily younger employees. In January, 39% of those registered for unemployment were people under 35 and 61% were people aged 35 and up. Now, 49% of those who are unemployed are younger than 35. Women appear to have taken a stronger hit than men. In 2019, women made up 55% of those registered for unemployment. Now, women make up 62%, nearly two-thirds of Israel's unemployed.

The Israeli Employment Service estimates that between 10%-20% of the corona-related unemployed will not be able to return to their positions. Last week, Employment Service Director-General Rami Garor estimated 800,000 people will become unemployed as a result of the coronavirus pandemic and the Israeli Ministry of Finance has estimated the number of newly unemployed would reach 1 million.