While Covid-19 Forces Companies to Cut Back on Staff, Israeli Defense Contractor IAI Is Hiring
As Israel's unemployment rate climbs over 24%, the state-owned defense contractor is looking to hire some 60 people
While the coronavirus (Covid-19) pandemic has led more than 1 million Israelis to register as unemployed, bringing the country's unemployment rate to 24.1%, state-owned defense contractor Israel Aerospace Industries Ltd. (IAI) is looking to hire some 60 employees.

Before the pandemic, the company intended to hire an additional 400 people this year but because of the outbreak, it is slowing down the process and is currently only looking to hire 60 engineers, Adi Ben Shushan, director of IAI's job center said in a statement Sunday. In 2019, the company hired some 1,600 employees.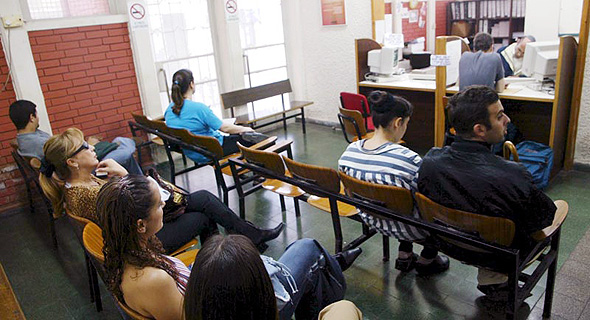 Employment office. Photo: Tzvika Tishler.

Last week, Calcalist reported that IAI, together with medtech company Medical Solutions Ltd. has converted an IAI factory into a ventilator-producing manufacturing line. With the new manufacturing line, the defense ministry expects to produce 50 such machines a week, scaling up to 100 a week after the Passover holiday that ends in mid-April.

IAI is Israel's largest aerospace and defense company, developing systems for air, space, sea, land, cyber, and homeland security.