AID Genomics and China's BGI to Open Covid-19 Testing Lab in Gaza
Rehovot-based AID Genomics and genome sequencing company Beijing Genomics Institute will operate the Gaza lab that will conduct up to 3,000 coronavirus tests a day
Rehovot-based AID Genomics Ltd. and genome sequencing company Beijing Genomics Institute (BGI) have partnered to open a laboratory in Gaza that will conduct up to 3,000 coronavirus (Covid-19) tests a day, the companies announced Monday. BGI had previously set up similar labs in the Chinese cities of Wuhan and Shenzhen.

The Palestinian Authority already approved the plans and the technology transfer from BGI, according to the companies' statement.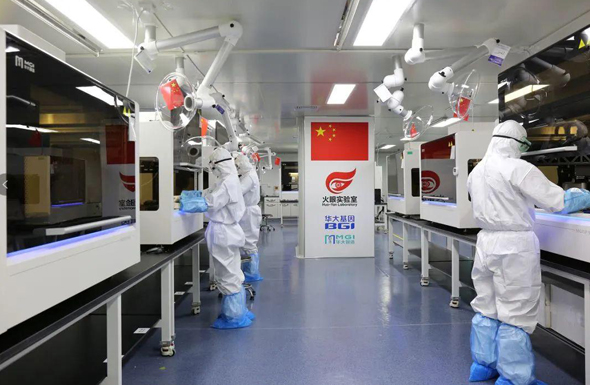 BGI's emergency testing lab. Photo: BGI

Mammoth Foundation, a charity based in Shenzhen, China also donated funds for the lab.

Founded in 2013, AID Genomics develops molecular diagnostic technologies designed to elucidate the genetic DNA profile of different patients and assist physicians in selecting safe and effective treatments tailored to each patient's genetic profile. The company was acquired in 2017 by Hong Kong-listed Aid Partners Capital Holdings for $23 million in 2017, according to Pitchbook data.

BGI was founded in 1999 and currently employs a team of 6,000 people.

Last week, Genealogy company MyHeritage Ltd. announced it has partnered with BGI to open an expedited coronavirus testing lab in Israel. Later that week, Calcalist reported the Israel's Ministry of Health decided to freeze the plans.