Opinion
Covid-19, an Unexpected Turn on the Mobility Road And Why It's a Turn for the Better
The CEO of GoTo writes about what mobility will look like after the coronavirus pandemic
Today, the world has literally stopped moving, air transportation is almost non-existent, and rides across public and private transport sectors dropped by 80%. The shared mobility sector is affected and witnessing a 50%-70% decrease in rides across all shared transportation verticals.

Shared mobility providers such as Share Now, Poppy, and City Scoot are responding to the situation by repurposing their fleets and offering them to medical and other essential workers. Some were quick to adapt and are expanding into food and product delivery services.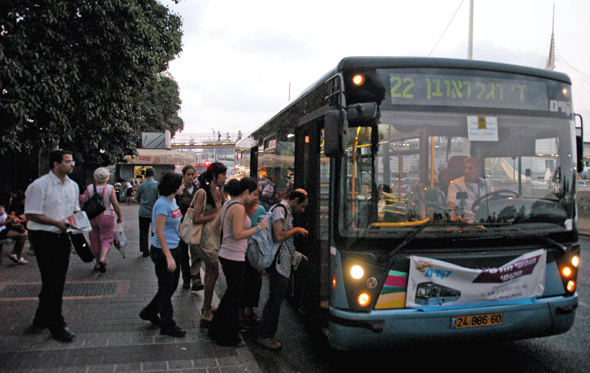 Public trasnportation (illustration). Photo: Yuval Chen

New business models and new practices

In times of crisis, businesses need to adopt and innovate to survive. The pressure is even higher on essential services as it is not only about ensuring the business' survival and employees' welfare, but also about the greater community which relies on essential services like transportation to get goods delivered. In this roam, we have seen multimodal self-driven mobility service players, such as GoTo Mobility Ltd. taking the opportunity to innovate and offer their vehicles to those in need for extra delivery capacity, including small businesses but also big chains like SuperPharm, the largest pharmacy network in Israel, and matching them with users who are interested in the extra income in the light of the situation.

Multimodality gives GoTo the ability to move fast and the flexibility to offer different solutions for different needs with different vehicles (cars, mopeds, bikes and electric scooters). This makes self-driven multimodal players more resilient to changes and crises than single vertical companies.

With the increased need for self-driven mobility services in a time in which public transport is not an option, it is crucial to uphold not only the highest operating standards but add new best practices such as disinfecting vehicles, instructing users on how to use the vehicles, and providing protective equipment to staff. Services such as Spin issued guidelines on how to disinfect its scooters and GoTo has implemented similar guidelines for its cars, bikes, and mopeds.

The morning after

Trying to imagine the mobility world after the Covid-19 crisis is difficult. However, there are several trends that we can see in China and other post-lockdown countries, which makes it possible for us to better predict the potential post-crisis developments.

Give way to micro mobility

A number of cities including New York and Bogota, converted roads into bike and micro-mobility lanes. While the reason is clearly to enable social distancing, there is a potential long-lasting impact of those measures. The social and environmental benefit of giving more room to micro-mobility was talked about for a long time, and now that it finally happened, cities might even keep some of those lanes post-crisis. Once the space for cars in the roads is minimized, alongside with other policies undertaken by cities to remove private cars from city centers, car-ownership will become more and more obsolete, leading citizens to choose among a variety of shared transportation solutions.

Shared mobility on the rise

As China is getting out of the isolation, bike-sharing usage has experienced a steep growth in rides. In addition, the average revenue per ride has more than doubled during this period: people use the bikes as an end-to-end transportation solution, as it is safer and more available than public transport. One of the two largest bike sharing providers, Meituan (formerly Mobike) saw an almost 90% increase in rides in the first two weeks of March compared to the same period two weeks earlier, and an even larger increase to the Lunar New Year. Another bike-sharing player, Hellobike, reported a nearly 140% increase in rides in Beijing at the end of February compared to the beginning of the month.

Both China and South Korea are seeing strong rise in car-sharing rides. One of the largest car-sharing service providers in South Korea, GreenCar, reported that weekly usage between February and March had increased by more than 50% compared to the previous year.

The Future is Bright

Given these promising increases, we believe that the short-term negative impact of the Covid-19 crisis on the shared mobility industry will be followed by a long-term positive effect.

We estimate that in the first 4-6 weeks post-quarantine, self-driven vehicle rides will see a steep recovery curve.

As new habits are being formed, the world of post Covid-19 might be different from ordering groceries and products to conducting Zoom meetings from home it will be hard to go back to old habits of spending hours on the roads just to get to work. Businesses that underwent Covid-19 digital transformations and started selling online, are likely to grow this channel and with that, the need for delivery services.

The Total Addressable Market for the self-driven shared mobility operators is likely to grow significantly as citizens will be looking for alternatives to public transportation and private car ownership. Furthermore, businesses will continue growing their online channel and will require different types of vehicles for their delivery services. Self-driven multimodal mobility players, such as GoTo are best positioned to tap into this market, as they answer citizens and businesses' needs through offering various solutions, ranging from cars, to mopeds, to bikes and kick scooters.

The author is the CEO of GoTo, a multimodal vehicle sharing service provider with a mission to reduce the number of privately-owned vehicles in cities. Headquartered in Israel, the company currently has presence in three countries, 13 cities, and continues its expansion in Europe.