Coronavirus
Israeli Tech Companies Sisense and Singular Firing Scores of Employees
Software unicorn Sisense says layoff of 80 workers, 20 of them in Israel, is part of the company's strategy for the lean times ahead
Israel-based business analytics software unicorn Sisence Ltd. is laying off 80 of its 900 employees worldwide, 20 of them from its local headquarters as part of an industry-wide trend that has been unfolding in recent weeks amid the coronavirus (Covid-19) crisis.
According to information obtained by Calcalist, most of the workers slated to be fired are from the sales and marketing team. Meanwhile, Calcalist has also learned that marketing analytics startup Singular Inc. is also letting go of dozens of Israeli workers.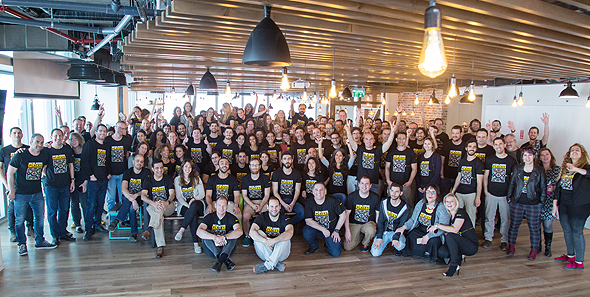 Sisense's Team. Photo: Shir Noyman
"Sisense is continuing to grow, but like many companies around the world is preparing for a global economic slowdown and lower growth due to the coronavirus and ensuing closure restrictions. After a period of rapid growth in recent quarters, during which we hired 100 new employees, the responsible course of action now is to adjust to the new reality," the company told Calcalist. "For that reason, we decided to balance our expenditures as per our income forecasts and this week decreased our team by 9% globally and 75 locally, without lowering the remaining team members' salaries. As painful as it is, this move strengthens the company, its remaining employees, and its clients and ensures our continued growth and ability to invest in future development."
Last January, Insight Partners led a $100 million investment round according to a valuation of $1.1 billion for the company that developed a cloud-based business intelligence platform that uses artificial intelligence algorithms to analyze organizational data. The company has raised $200 million to date from investors including Insight Partners, Battery Ventures, and Bessemer Venture Partners. Sisense is estimated to have closed out 2019 with earnings of approximately $100 million.
In May 2019 Sisense purchased Silicon Valley-based data analytics company Periscope Inc., known as Periscope Data. The financial details were not disclosed but one person familiar with the matter who spoke with Calcalist on condition of anonymity said it was a stock deal valued at over $100 million. The purchase grew the number of Sisense's employees to over 700, 250 of them based out of Israel.
A second company that has let go of a substantial number of employees is marketing analytics startup Singular Inc. The company did not respond to Calcalist's request for details, but it is estimated to have laid off dozens of workers along with cutting the salaries of its senior executives.
Singular develops a single dashboard service that helps marketers process and analyze marketing data from various sources in order to optimize ad spend. The company was founded in 2014 by three former executives at Tel Aviv-based startup Onavo Mobile Ltd., acquired by Facebook in 2013 for an undisclosed amount.
These companies join a growing list of Israeli tech firms that have laid off substantial numbers of staff members as they anticipate the lean times ahead brought about by the coronavirus crisis.