Inter-Ministerial Squabble Delays Israeli Export of Medical Cannabis
A disagreement between the ministries of health and finance on the question of controlling the price of medical cannabis is the latest barrier in Israel's long road to exporting cannabis
An inter-ministerial disagreement on the question of controlling the price of medical cannabis is the new barrier in the continuous saga of Israel's medical cannabis export.

For daily updates, subscribe to our newsletter by clicking here.

The Israeli Ministry of Finance has spearheaded the export process, expected to net Israel between $70 million and $1 billion a year according to different estimates. The export reform, in the works since 2016, was approved by the government in January after stringent opposition from the Israeli Ministry of Public Security. Export is set to start in September, but the Israeli Ministry of Health recently placed its own hurdle by demanding more funding and positions.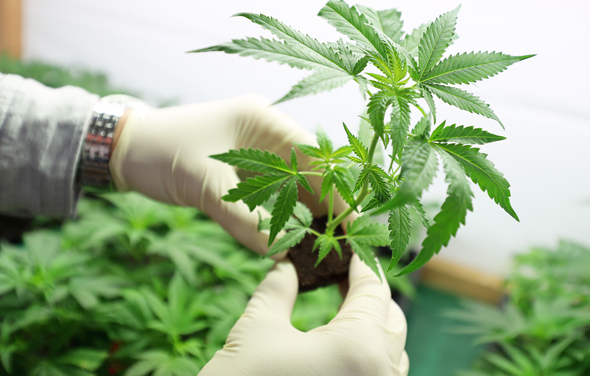 Medical cannabis. Photo: Shutterstock
At the same time, the health ministry started working on a process intended to cap medical cannabis prices in Israel. Medical cannabis prices in Israel started going up after a reform, passed last year by the ministry, increased the number of medical cannabis sellers but also canceled standardized prices for cannabis products. To counteract the price hike, the health ministry approached the inter-ministerial pricing committee to ask that medical cannabis receive a government-mandated list price, similar to any other drug sold in Israel. In response, the finance ministry demanded data that proves medical cannabis prices require government supervision, a potentially lengthy process.
Over the weekend, the health ministry sent the finance ministry a letter, reviewed by Calcalist, that conditions the export on the approval of the requested government supervision. As long as the medicalization process of cannabis is not fully completed, especially in regards to prices, the letter read, the directive of the deputy health minister and the ministry's director-general is that cannabis export will not be allowed. This directive is also meant to prevent a situation where export drives local prices up, the letter continued.
Around 50,000 people currently have a permit to use medical cannabis in Israel, according to the health ministry, but the number of permits granted is growing at a rate of around 2,200 a month. At the same time, strict regulation means that Israel has only eight licensed growers and three manufacturers-distributors that do not grow their product. Competitive pricing pressure in the local market is therefore minimal. Furthermore, there is currently no import of medical cannabis, meaning patients can only rely on local growers.
The changes export is expected to bring, such as the entrance of venture capital entities looking to make a quick profit, raise concerns of prices being raised above the means of many patients, according to the health ministry.
The finance ministry is not against putting a price cap on medical cannabis, a spokesperson for the ministry told Calcalist. Rather, it wants to consider the product as objectively as it would any other product before making a decision.