Cybersecurity Startup Foundry Team8 Launches VC Arm, Raises $104 Million
Team8 Capital will lead seed, series A, and series B rounds for startups working in the fields of data, artificial intelligence, cybersecurity, and enterprise technologies
Israeli cybersecurity startup foundry Team8 announced Wednesday it is establishing a new venture capital arm. Veteran investor Sarit Firon will serve as co-managing partner of Team8 Capital, alongside Team8 co-founder Liran Grinberg.

Called Team8 Capital and incorporated as Team8 Ventures Management Ltd., the new fund already raised $104 million in commitments but has yet to close, according to an April filing with the U.S. Securities and Exchange Commission (SEC).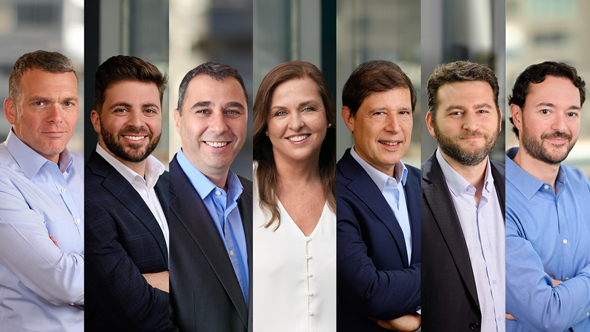 Team8 Partners. Photos: Yonatan Blum and Scott Wagner
Team8 Capital will lead seed, series A, and series B rounds for startups working in the fields of data, artificial intelligence, cybersecurity, and enterprise technologies, according to the company's statement.
Team8 is a cybersecurity think tank and a startup foundry headed by Nadav Zafrir, former chief of Unit 8200, the Israeli military's NSA equivalent. Team8's foundry will continue to establish companies that will go on to operate under its umbrella, using the new fund to finance them. The company employs some 40 people in Tel Aviv and New York.
Throughout her career, Firon was party to exits and initial public offerings (IPOs) amounting to a total of over $4 billion. She held chief financial officer positions at MediaMind when it listed on Nasdaq and was later sold to online advertising company Sizmek.com (formerly known as Digital Generation Inc., or DG), at P-Cube when it was acquired by Cisco Systems, and at Radcom Ltd. when it listed on Nasdaq.
As an angel investor, Firon led the seed round and served as a board member for marketing analytics company Datorama and played an active role in its sale to Salesforce in 2018.
As a partner at Cerca Partners, Firon took part in investments in additional companies that were acquired or went public, including IoT security company Armis Inc. (acquired by Insight Partners), data management and migration company Alooma Inc. (acquired by Google), information security firm Demisto Inc. (acquired by Palo Alto Networks Inc.), web personalization company Dynamic Yield Ltd. (acquired by McDonald's Corp.), and online gig marketplace Fiverr Int. Ltd. (listed on NYSE last year).
Grinberg, together with Zafrir and Israel Grimberg, founded Team8 in 2014. When the company first started, Grinberg focused on Team8's foundry activity. Sygnia Inc., acquired in 2018 by Singapore's governmental holding company Temasek Holdings (Private) Ltd., Claroty Ltd., Illusive Networks Ltd., Hysolate Ltd., and Curv Inc. are among the companies to emerge from Team8's foundry.
Grinberg later established Team8's Go-to-Market network of marketing, business development, and market research professionals and the Team8 Village, a community of hundreds of top executives from leading organizations around the world that take an active part in the establishment of Team8's companies.