Israeli Covid-19 patient tracing app is raising privacy concerns in the U.S.
GlobeKeeper's SAFE tracing app works with a smartphone or tablet's Bluetooth technology to communicate with other devices in range
Israeli startup GlobeKeeper Tech Ltd.'s SAFE application, designed to trace proximity to coronavirus (Covid-19) patients is causing concern in the U.S. The company is currently in negotiations to sell the app to state governments as well as to private companies. GlobeKeeper's primary product is a secure communications protocol that enables security organizations, like the police and the military, to imbue civilian devices like smartphones with military-grade encryption for strategic, tactical, and operational communications.

The Tel Aviv-based company developed the SAFE app in parallel to developing the Israeli Ministry of Health's Magen (Hebrew for shield) proximity tracing app, but the two are very different. The Magen app is based on open source code, while SAFE is fully proprietary.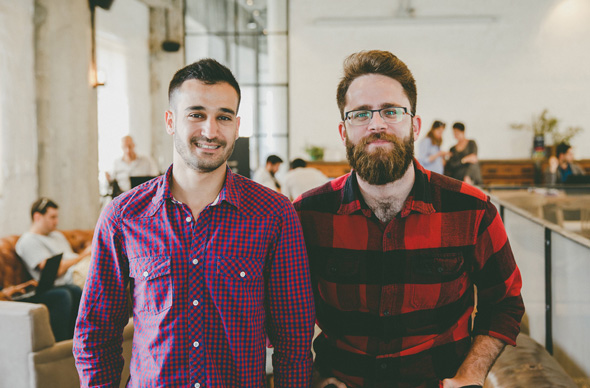 Dan Peleg and Shay Solbodov, GlobeKepper co-founders. Photo: PR

According to GlobeKeeper co-founder and CEO Dan Peleg, the app meets all the privacy standards of the California Consumer Privacy Act (CCPA), which is considered one of the strictest in the country. That said, it is not a federal act and cannot be implemented in other states. There is no privacy act on the federal level.

The SAFE tracing app works with a smartphone or tablet's bluetooth technology to communicate with other bluetooth devices in range. SAFE generates unique anonymous identifiers every 15 minutes and uploads the information to a public database. Data is stored on the individual's device, with deletion after 21 days.

"The data is basically public. So not even the government owns it. It's sitting on the cloud, publicly. It's random unique identifiers that don't include any personal information," Peleg said in a recent interview with The Media Line.

Jon Garon, director of the Intellectual Property, Cybersecurity and Technology Law Program at Nova Southeastern University said he is particularly concerned about the use of the app by non-state, private actors. While government agencies are subject to public oversight to prevent misuse, companies who may demand their employees install and activate it are not.

"As an employee protection matter, it's completely inappropriate to give companies this sort of power over their employees' health data," said Albert Cahn, the executive director of the Surveillance Technology Oversight Project (S.T.O.P.).

Patient tracing apps have become increasingly common over recent months, but they lack an international unified legal framework to oversee their use. Every country has its own local legislation and even in Europe, they change from country to country. In Israel, the use of phone tracking by the Shin Bet internal security agency was met with fierce resistance, which in turn led to the development of the voluntary downloadable Magen app, which has so far been installed by two million people, roughly a quarter of the population.