DiplomaTech
Teflon Thailand is primed for Israeli innovation solutions
"You can't just come and throw around words like AI and IoT and think that will be enough. The key word in Thailand is ROI," said trade attache Dagan Alony
The economic relations between Israel and Thailand are blossoming like never before. But for Dagan Alony, head of Israel's Economic and Trade Mission to Thailand, one of 44 economic missions operated globally by the Ministry of Economy and Industry, this is just the tip of the iceberg. So much so, that he believes even the coronavirus (Covid-19) pandemic will ultimately prove to be no more than a stumbling block on the way to bigger and better things.

The growing interest in Israeli technologies in Thailand combined with an increased understanding among Israeli companies regarding the potential in southeast Asia fills Alony with great optimism regarding the future of the relations. If he's right, deals like the one which saw Bangkok-headquartered Indorama Ventures purchase a 66% stake in Tel Aviv-listed hygienic fabric company Avgol Industries according to a valuation of around $480 million two years ago could become a regular occurrence. The fact that the three biggest banks in Thailand all invested in Israeli VCs over the past couple of years is certainly also a promising indicator of the huge unrealized potential.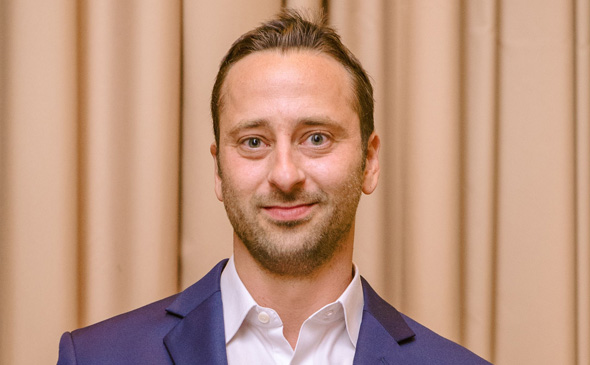 Dagan Alony, head of Israel's Economic and Trade Mission to Thailand. Photo: Courtesy

"Over the past three years the relationship between Israel and Thailand has come a long way, and in particular the tech trade relationship. Thai companies were regularly visiting Israel prior to Covid-19 to learn about innovation and to invest in VCs and startups," Alony told CTech last week. "This is a relatively new phenomenon. Thai companies until not that long ago invested most of their efforts in neighboring countries and in the ASEAN (Association of Southeast Asian Nations) region which is comprised of 10 countries with a combined population of over 660 million. But they began to look outside their backyard in recent years and we have made the most of that and of the existing relations between the countries in tourism to do actual business."

Alony added that over the past two years almost every big Thai company has sent representatives to Israel. "Thailand has some massive companies, including one of the world's biggest food companies and the world's biggest tuna manufacturer," said Alony. "The three biggest banks in Thailand have all started investing in Israel, with all three putting money into VCs, and two of them also investing directly in startups. That is something that was unheard of a few years ago. All of this came as a result of the connections we made and this is just the tip of the iceberg. I'm very proud that the Israel mission in Thailand helped close the second most deals among all of Israel's missions in 2019. That is far from a given."

There are numerous examples of the increased investments being made by Thai companies in Israel. The Siam Cement Group (SCG), one of Thailand's largest companies, has invested in two Israeli startups, while Thai Union, one of the world's largest seafood producers, has put money in Israeli company Flying Spark, enabling the startup to move ahead with its insect growing and processing capabilities in Thailand. There have also been deals struck in the healthcare sector since the outbreak of the pandemic, with Israel's Tyto Care being extremely successful with the sale of its device which allows patients to conduct diagnostic examinations of the lungs, heart, throat, and ears from the comfort of their own homes. The data gathered by the device is sent to the relevant doctor, accompanied by insights on the patient's condition to assist in the medical staff's assessment. Samitivej Hospitals, part of Thailand's largest private hospital company, is one of Tyto Care's biggest clients.

"Thailand has a sophisticated market. You can't just come and throw around words like AI and IoT and think that will be enough. The key word in Thailand is ROI (return on investment)," explained Alony. "Thai companies love cool tech, but they love business models even more. That was true before coronavirus and is even more significant now. If you can explain why your technology brings value to the company then you will be able to do business here, even with the Covid-19 crisis. The appetite of the big Thai corporations hasn't changed. They may prioritize more and not seek adventures outside their comfort zone, but when it comes to their core products they will certainly be interested in investing if you can prove that it will bring them financial benefit."

Thailand's handling of the coronavirus pandemic seems almost too good to be true, with the country of around 70 million people reporting 3,162 Covid-19 cases in all and a mere 58 deaths.

"There is a lot of skepticism around the world, and also internally in Thailand regarding the Covid-19 numbers. While I understand where this is coming from it is ultimately an unjust prejudice," said Alony. "It is true that there aren't enough tests taking place in Thailand. Unless you were directly exposed to a Covid-19 carrier, it will cost you between $15 and $30 to do a test, which is a lot of money for the average Thai citizen. However, as part of my job I'm in touch with almost all the hospitals in Thailand and I can say that none of them are anywhere near full capacity. The ICUs are operating as normal and there was never any talk about flattening the curve because it wasn't necessary. When you look at the situation at the hospitals — the number of deaths—and life on the streets, the numbers make far more sense and it does seem that the country is running well."

Alony explained that the Thai people are known for being extremely hygienic and that masks and hand sterilizers were household products long before the arrival of Covid-19. Thailand also seems to have benefitted from a network of more than 1 million community workers known as the Village Health Volunteers. The World Health Organization praised the volunteers as "unsung heroes" with the volunteers conducting temperature checks and helping the government collect daily health information, as well as being on the lookout for flare-ups in infections.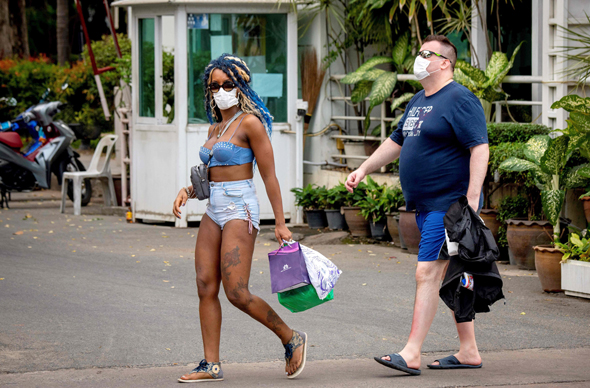 Tourists wearing masks in Thailand. Photo: AFP

"When I first arrived and told people that I only shower my children once a day, every evening, they were stunned. Everyone in Thailand showers at least twice a day. It took the west months to understand what masks are and where to find them, while in Thailand everyone uses masks on a regular basis. Even before Covid-19, if you had a fever or weren't feeling very well you didn't leave your home without a mask. And the same goes for hand sterilizer. These are all part of the culture here so from that angle they were very ready for the pandemic," said Alony.

While Thailand has been extremely successful from a health standpoint, like almost any other country in the world, its economy suffered a huge blow from the pandemic, mosty due to its reliance on tourism.

"Thailand has almost gotten back to normal and seems to be doing it well as there hasn't been a second outbreak. The big dilemma now is what to do regarding tourism. Between 15%-18% of Thailand's GDP comes from tourism. That is huge and there is no doubt Thailand's economy has suffered a big blow from coronavirus," said Alony. "The government has said that unemployment is at 10% and there are reports that over six million tourism jobs have been cut. As well as tourism, Thailand is also very dependent on its export. It is one of the biggest food exporters in the world. It is the world's biggest rubber exporter. With the global supply chain coming to a halt Thailand has taken a big hit."

Alony said the country has earned the nickname Teflon Thailand for its ability to bounce back from crises and he is confident it will be able to do so once more. "Thailand has overcome many setbacks, like the 1997 economic crisis in Asia, the SARS pandemic, the tsunami and a couple of military coups in 2006 and 2014. So we are hoping Teflon Thailand will be able to rebound from Covid-19 as well," noted Alony.

With Thailand not always being the most obvious destination to Israeli startups, Alony said much of his work is focused on convincing Israeli companies to come and do business in southeast Asia.

"Most Israeli startups turn to the west from the go. That makes sense because the money is in the U.S. and Europe and there are a lot of deals to be done there. But my job and that of my fellow attaches in Asia, is to tell these companies to turn to the east," he said. "There is a lot of potential here and you are also more unique. If for example, you are a fintech startup with a payment solution, Silicon Valley might not currently be the right place for you. But in Thailand, the fintech sector is experiencing amazing growth."

Alony believes it makes more sense than ever for Israeli companies to come to Thailand with Asia already looking well on its way to overcoming the pandemic, while the west, and especially the U.S., are at the height of the crisis.

"Coronavirus started in Asia and this will also be the first place to exit the crisis. If you aren't in southeast Asia you should be really asking yourself why and calibrate. There are so many opportunities here. Every Israeli company that comes here is pleasantly surprised. And now it is even more relevant as the west is still busy with Covid-19 while Asia is beginning to open up."