Software deployment company CodeFresh raises $27 million
CodeFresh offers tools for the development, testing, and deployment of apps on the Kubernetes open-source container orchestration system and intends to use the funding for R&D
Mountain View, California and Tel Aviv-based software deployment startup CodeFresh Inc. announced Monday it has raised $27 million in a round led by Israeli venture capital fund Red Dot Capital Partners. The current round brings CodeFresh's total funding raised to date to $42 million.

Additional participants in the round include Shasta Ventures and existing investors Viola Ventures, Hillsven Capital LLC, Vertex Ventures, Microsoft's investment arm M12, and CreditEase Israel Innovation Fund (CEIIF), a subsidiary of Beijing-based consulting firm CreditEase.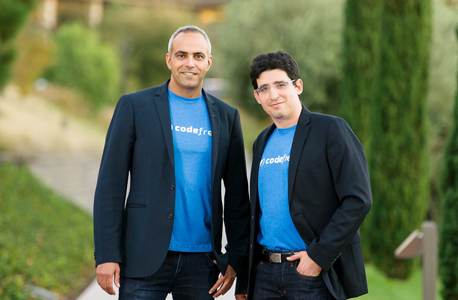 CodeFresh founders Raziel Tabib (left) and Oleg Verhovsky. Photo: PR

CodeFresh offers tools for the development, testing, and deployment of apps on the Kubernetes open-source container orchestration system. In the past few years, Kubernetes became a new industry standard for cloud-based applications.

CodeFresh was founded in 2016 by CEO Raziel Tabib and Chief Technology Officer Oleg Verhovsky. The company employs 65 people, 20 of them in Israel, 30 in North America, and the rest in eastern Europe. The company counts Fortnite developer Epic Games Inc. and international fashion brand The Gap Inc. as customers.

CodeFresh intends to use the funding for research and development, Tabib said in a statement. "We live at an age when organizations are looking for economic solutions, automation, and simplification," he said, adding that CodeFresh gives them just that, allowing them to easily migrate their apps to the Kubernetes environment.

Red Dot Managing Partner Yaniv Stern and Shasta Venture Partner Isaac Roth will be joining CodeFresh's board. Roth previously created and headed Red Hat Inc.'s enterprise cloud platform OpenShift. "CodeFresh's solution is lightyears ahead of its competition," Roth said in a statement.