Ibex Medical Analytics partners with French laboratory network Medipath
The AI-based cancer diagnostics company will be deployed on Medipath, which offers services to 170 hospitals across France
Ibex Medical Analytics Ltd. today announced its deployment in Medipath, France's largest network of pathology labs. It marks the first time an AI-powered solution for cancer detection will be used in pathology in France.

France, along with the rest of the world, has seen a rising prevalence of cancer in recent years. The rise coincides with a decline in pathologists and resulting in increased workloads. As rising demand meets a decreased supply, humans are making more errors and results are getting delayed as backlogs continue to rise - as countries like the UK have already seen.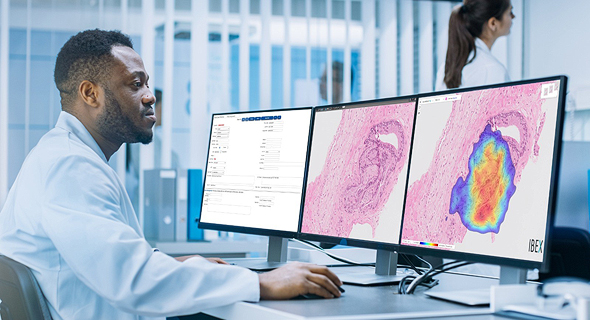 Medical imaging in operation. Photo Ibex Medical Analytics

Ibex's solution is expected to assist pathologists in Medipath meet this rising demand in cases. It has completed deployment of Ibex's Galen Prostate - the CE-marked solution analyzes prostate biopsies and alerts the pathologist when there is a discrepancy between a result and the pathologist's original diagnosis - saving time in the process.

"Medipath's implementation of Galen Prostate represents a significant step in our global expansion and extends the scope of cooperation between our companies to routine cancer diagnosis - the core of Medipath's clinical practice," said Joseph Mossel, CEO and Co-Founder of Ibex.

"This is an important step for leveraging our leadership position to support pathologists and assist them in improving diagnostic quality and workflow efficiency. AI can be a tool in the future of pathology, and we are thrilled to be the first lab in France to reach this milestone," said Delphine Raoux, MD, Head of Innovation Technologies at Medipath.

Medipath is France's largest network of pathology laboratories. Its team consists of more than 350 employees who collaborate with more than 170 hospitals and clinics across the country.