DiplomaTech
It is time to mess with Texas, urges Israel's Houston trade rep
Despite the potential cultural stumbling block, Shay Luvshis believes Israeli startups and companies shouldn't miss out on the chance to do business in the Lone Star State
Shay Luvshis received a stormy welcome upon his arrival to Houston in the summer of 2017. Shortly after landing in Texas to begin his role as the head of Israel's Trade and Economic mission in Houston, Hurricane Harvey, a devastating Category 4 hurricane, struck Texas and Louisiana. Harvey inflicted damages reaching $125 billion and resulted in the death of 107 people, with an estimated 30,000 people being displaced.

It was probably only fitting that Luvshis's tenure got off to such a turbulent start considering the Covid-19 crisis and the massive hit it would have on the oil and energy sector, and consequently on Houston, also known as the energy capital of the world, ended up occurring on his watch. At the end of April, the price of U.S. crude oil crashed from $18 a barrel to -$38 over several hours, as rising stockpiles of crude threatened to overwhelm storage facilities, which ended up being forced to pay to dispose of the excess.

"The oil and energy sector was hit by a perfect storm. It started in March when the pandemic began and there was a drop of 40%-50% in demand. Demand for jet fuel, for example, plummeted 70%. So there was the drop in demand and it just so happened that at the same time members of OPEC (The Organization of the Petroleum Exporting Countries) were quarreling. The combination resulted in oil hitting its lowest ever price at the end of April," Luvshis told CTech.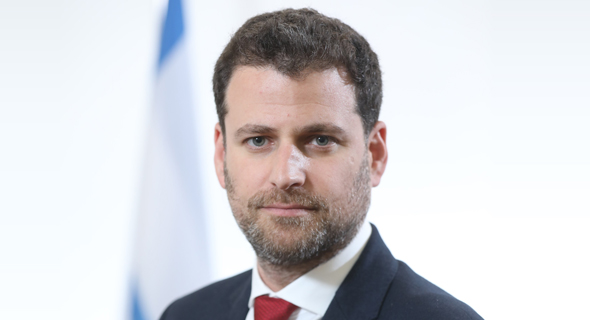 Shay Luvshis, head of Israel's Trade and Economic Mission to Houston. Photo: Gideon Sharon

Luvshis said the mission provides significant added value with its network of connections and knowledge. "We know to identify the places in which there is the potential for business for Israeli companies. We have a network with which we have been in touch for years and can tell you if a certain company that just fired 3,000 employees might be closed for offers and is in survival mode while another company that also fired 1,500 employees is actually open for business as it is looking for a solution an Israeli company may be able to provide that would cut costs and save money," explained Luvshis.

Other than oil and energy, the second pillar of activity for the Houston mission is the life sciences sector, with the largest medical center in the world, the Texas Medical Center, being located in Houston. In addition to those, Luvshis and his team also place a special focus on the defense and cybersecurity sectors, in particular cybersecurity for critical infrastructure.

"Oil refineries, power plants, oil companies, oil and gas rigs and water infrastructure are all places where the impact of a cyber-attack is far more serious than just losing a couple of million dollars," said Luvshis. "In critical infrastructure, a cyber attack could paralyze life-support machines or poison water supplies. Cybersecurity for critical infrastructure demands a special approach and Israeli companies have expertise in this field. We also work with many U.S. defense organizations in Texas. We often work together with the Israeli Ministry of Defense and other defense organizations in Israel in order to promote the activity of Israel's defense sector in cyber and homeland security in Texas."

Luvshis acknowledged that it is especially complex to convince U.S. companies that operate in sensitive sectors to open up to foreign firms, even if they are Israeli.

"Every country wants to hold its cards as close as possible to its chest when it comes to sensitive information and even when it is willing to hold the cards a little further out, it only allows in a very select group of countries with which it has a really tight relationship. Israel is certainly one of those," noted Luvshis. "There is certainly some tentativeness from organizations when they need to depend on security solutions that aren't local, especially in a market that is so regulated like the critical infrastructure market. On the other hand, Israel and the U.S. are so close and we are on the shortlist of countries they will work with. Ultimately, it also comes down to people making decisions and we have built relationships with the people here and they trust us. And once you have this trust you can move on to talk about the most sensitive aspects."

Luvshis also played a role in Chevron's recent $5 billion takeover of Noble Energy which reverberated through the Israeli economy due to Noble's stakes in the country's huge natural gas fields Tamar and Leviathan. Luvshis said the mission had tried to interest Chevron in the Israeli market for years until finally succeeding in a meeting held this past February.

Other than consulting Israeli companies and giving them advice on how to operate in the Texan market, Luvshis also spoke of the mission's work opposite American companies. "One type of activity we do is organizing for American executives a lineup of meetings with Israeli companies who hear from the executive about the type of solutions they are looking for. We did something like this recently with an executive from Shell," revealed Luvshis. "We also provide scouting services for American companies. For example, we recently met with one of the biggest construction companies in the U.S. that is based out of Houston and heard from them what they are interested in. They said they needed solutions related to water tech so we organized a full day of meetings for them with seven different Israeli companies with potential solutions."

According to Luvshis, one challenge many Israeli companies aren't aware of when coming to Texas is the cultural gap. "The culture in Texas is different from that of California for example. That is one of the areas where we provide the most added value. I was surprised the cultural differences were such an issue when I first arrived here," he admitted. "The market is very competitive and a lot of trust is needed to reach a deal and a lot of the time it is enough to mess up one small thing and you lose your chance. Israeli companies sometimes make the most naive mistakes and lose the opportunity because of that. We are here to help guide them in the right direction."

Despite the potential cultural stumbling block, Luvshis urges Israeli startups and companies to come to Texas.

"Usually when you talk to Israeli companies who want to work in the U.S. you hear that their main focus is on the East and West coasts, New York and California, respectively. Houston and Texas, as well as the Midwest and Southwest, which we are responsible for, are often left by the wayside," said Luvshis. "But doing business in Texas is really something you don't want to miss out on. Texas is ranked first among all U.S. states in doing business thanks to its tax breaks and regulatory environment. Israeli companies sometimes ignore Texas because they are following the crowd and automatically go first to New York, Boston or Silicon Valley. But there is so much potential here and we can do so much for the companies that they should really not overlook this opportunity."