Israel's Bank Leumi leads $150 million round in medtech fund ALIVE as an anchor investor
ALIVE will focus on mature companies in the fields of medical technology, medical equipment, and telemedicine and intends to lead 10-15 rounds of between $10 million and $30 million, within the next four years
Leumi Partners, the Investment arm of Bank Leumi, one of Israel's two largest banks, has led a $150 million round for a medtech investment fund led by former Israeli healthcare system officials, several people connected to the fund who spoke on condition of anonymity told Calcalist. According to the people, Leumi Partners invested $10 million in the new fund, called ALIVE HealthTech Fund, and is one of four anchor investors who invested a total of $50 million.

The three other anchor investors in the fund, announced last year, are Maccabi Fund, which is associated with the Israeli health maintenance organization (HMO) Maccabi Healthcare Service, British-Iranian entrepreneur Vincent Tchenguiz, through his investment firm Consensus Business Group (CBG), and not-for-profit Virginia and West Virginia healthcare organization Carilion Clinics.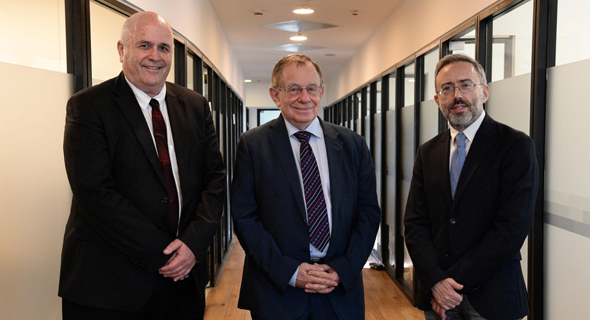 Ari Shamiss (left), Rafael Beyar, and Michel Habib, ALIVE HealthTech Fund. Photo: PR

Heading ALIVE are Rafael Beyar, an Israeli medical doctor who served as the director-general and CEO of the Rambam Health Care Campus in Haifa (Rambam Hospital) between 2006 and 2019; Ari Shamiss, formerly the director of the general hospital at Sheba Medical Center in central Israel and former CEO of Israeli private hospital chain Assuta Medical Centers; and Michel Habib, formerly the CEO of Tel Aviv-listed medtech investment company Hadasit Bio-Holdings Ltd., in which CBG is a stakeholder.

ALIVE will focus on mature companies in the fields of medical technology, medical equipment, and telemedicine and intends to lead 10-15 rounds of between $10 million and $30 million, within the next four years, the people said. The fund will invest between $5 million and $10 million in each company.

The fund intends to make its first investments in the upcoming weeks, the people said, and its first investment will be in a cardiology company.

Maccabi and Assuta will both have observers on ALIVE's board. The fund will be based at the Assuta Tower in northern Tel Aviv.

"ALIVE is the first fund that is built on the foundation of an active strategic relationship with private hospital chains and an HMO, which set out to provide high quality, cost-effective innovative medical services to patients," Shamiss told Calcalist in an interview.