Sales conversation analytics company Gong raises $200 million at a $2.2 billion valuation
The mega-round, led by New York-based hedge fund Coatue Management, comes less than a year after Gong's $65 million round in December
Israel-based conversation analytics startup Gong.io Ltd. has raised $200 million in a series D round made at a $2.2 billion valuation, the company announced Wednesday.

"We would rather see the world doing better even if that means we make a little less money, but it is clear that the current situation gives Gong some tailwind," co-founder and CEO Amit Bendov said in a phone interview with Calcalist.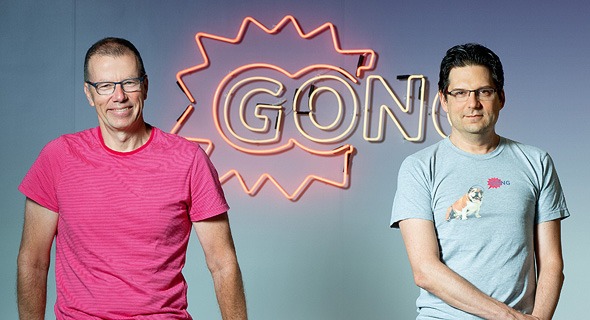 Gong co-founders Amit Bendov and Eilon Reshef. Photo: Rami Zerenger
The mega-round, led by New York-based hedge fund Coatue Management LLC, came less than a year after Gong's $65 million round in December. Additional participants in the current round, which brings the company's total funding to date to $334 million, include Salesforce Ventures, the venture arm of San Francisco-headquartered customer relations management company Salesforce.com Inc., Index Ventures, and Thrive Capital, as well as existing investors Sequoia Capital, Battery Ventures, NextWorld Capital, Norwest Venture Partners, and Wing Venture Capital.
Founded in 2015 and based in Herzliya, a town in the Tel Aviv area, Gong develops speech recognition technology that provides sales representatives with real-time insights into their interactions with customers by analyzing recorded phone calls to track keywords and topics within a conversation.
In 2018, Gong won Calcalist's and Microsoft's second annual artificial intelligence and big data startup competition. Among the company's current clients are PayPal, LinkedIn, Autodesk Inc., Shopify, and Slack.
With many companies transitioning towards remote work from home due to the ongoing coronavirus (Covid-19) crisis Gong has experienced a peak in demand as a tool to increase efficiency and drive sales. According to the company, the current round came as it tripled its income in 2020 compared with the same period last year.
In December, when we talked about your previous round, you told me the company has not yet used up the money it raised in the round announced a few months prior and it was still sitting in your bank account. Yet, now you have completed another, even bigger round.
"It's still true and we still haven't used up the funds from our B round. Maybe we'll buy the Beitar Jerusalem Football Club," Bendov joked. "We were not looking to raise more funds but the interest in Gong has gone through the roof, especially in this time of crisis," he said. According to him, the whole round was completed in just 14 days.
You have some new backers, did you already have a relationship with them?
"Throughout the years there were quite a few investors that wanted to back us and even though the deal didn't pull through we kept in touch. When we decided to embark on the current round, we had to pick the investors and we chose four funds. This is not your common funding round experience. Instead of us having to pitch to them so that they choose us, we had to pick our own investors. If I had taken all of the money offered by those who wanted in, I would have ended up with a $1 billion round on my hands. The funds participating in this round are such that normally go in before a company goes public."
So, are you aiming for an initial public offering (IPO)?
"No. An IPO is not our goal in life. At this stage, Gong is more of a candidate for an IPO than it is for a merger but we have a long road ahead and we must stay modest and figure out where we are and where else we need to go. An IPO is just one step along the way. It is a natural step but it is definitely not the ultimate goal.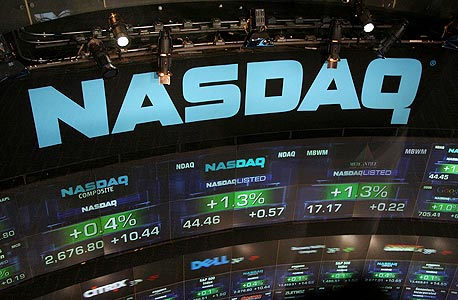 Dreams of Wall Street? Photo: Jonathan Kessler
You keep saying that you don't need the money, so why do you keep raising so much of it?
"First, it lets us breathe even in a very unstable climate. Even though we are doing well, only God knows what tomorrow will bring, for both the U.S. and the Middle East and the funding would allow us to survive even a nuclear winter while keeping our clients at ease.
"The second reason is that it allows us to acquire other companies and grow our product inorganically.
"Lastly, it is a very fickle world and the worst thing that could happen to a company is to not be aware of what is happening in its market. Gong gives companies a glance of what is happening on the field in terms of sales and a lot of customers that have previously turned us down are now coming in and that is how we tripled our income."
According to Bendov, when the crisis first started Gong was unsure what its impact on the company would be. "We decided that all of our employees would work from home and that, at least until the second quarter of 2020, we will not make any cutbacks and if there will be an issue we will be able to withstand it," he said. Gong currently employs 350 people around the world.
But things worked out. "We hired 30 additional people during this quarter and we intend to hire 100 more within the next four months," Bendov said. "We remain flexible when it comes to working from home and let everyone do what they are most comfortable with," he said. "We opened up the office because some people have trouble working from home but at least until July 2021 we won't be making anyone go back to the office."
Did you have to adjust your product to meet new market needs?
"Mostly we saw a growing demand for a product such as ours but we also made adjustments. For example, we added a visual work journal to make the product more accommodating for collaborative work. The second thing we added was prediction capabilities. A lot of companies have a hard time figuring out how their quarter would end, so Gong monitors communications with clients and helps them figure out which deals are going along as planned and where additional effort is needed.
"The most crucial change in our sector is the transition towards working from home. Teams are now all over the place and Gong lets them reconnect. Also, a lot of sales were traditionally done face to face and that is something that is never coming back, even after Covid-19 is passed. People need to learn to build a personal connection on a Zoom or telephone call and that is exactly what our product does."
But Gong's product can also be a significant expense for a company that is trying to cut back in order to ride out the storm.
"It's a drop in the ocean in terms of expenses compared to the revenue from the sales it creates. Our clients' satisfaction level is at 70%, which is higher than what the iPhone got when it was first introduced. It is even more remarkable as we are talking about enterprise software."
When you started out, you had no competitors but this mega-round is bound to draw attention to you and your sector, are you expecting new competition to emerge?
"We are pioneers. Most of the world is completely unfamiliar with our field. Other companies are touching on different aspects of the industry but no one is developing technology similar to ours. You ask about competition, but it is a completely open sea.
"We will welcome any new competitors in the market but don't forget we created a very high entry threshold. We have 1,300 customers and $250 million in the bank, it's not impossible to compete with us but it is not going to be easy. Big companies can pull it off and I won't be surprised if they decided to throw their hats in the ring, but we are running as fast as we can and keeping our eyes on the prize because if we slow down, someone else will beat us to it.
"I don't like the term unicorn. Some companies view it as a goal and pride themselves with this milestone but we don't look at it that way and we measure success by the number of customers and employees we have. We always keep in mind that we are just starting out. As far as I know, we are the private company with the highest valuation in Israel but this is not the criteria we measure ourselves by."