Insights: Two years on, Bird reveals scope of Israel's love affair with electric scooters
Company's numbers find hundreds of thousands of Israelis are primarily using micro-mobility to bypass rush hour traffic jams
It's been two years since Israeli scooter company Bird Rides Inc. became the first in the world to deploy electric scooters onto city streets. Today, it has revealed that 5.5 million rides have been taken by more than 350,000 riders.

According to its data, 3.5 million of the total rides were taken last year alone, and 30 percent of all rides took place during the rush hours of 08:00-10:00 and 17:00-19:00. The company also shared that the average duration of each ride has increased up to 12 minutes reaching an average distance of two kilometers (1.2 miles).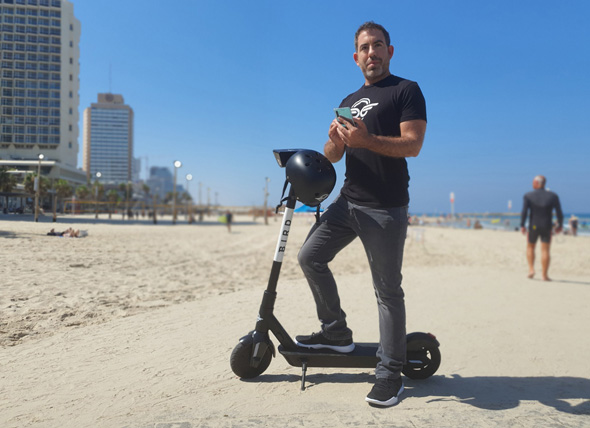 Yaniv Rivlin, CEO of Bird Israel Photo: PR

"Israel embraced the market of collaborative micro-mobility in huge numbers," said Yaniv Rivlin, CEO of Bird Israel. "The transportation solution we brought to Israel allows more Israelis to abandon their private vehicles and move around in smarter ways. We look forward to helping local authorities make urban space more accessible for collaborative scooters, by using our data to pave bike paths in places where there is a real need for tailored infrastructure."

"Two years following the introduction of Bird to Tel Aviv, we remain humbled, grateful, and inspired by how shared e-scooters have been embraced throughout the city," added Travis Vander Zanden, founder and CEO of Bird. "Thank you to our partners at city hall for their forward-thinking policies that make it possible for people to leave their cars at home, and make Tel Aviv more liveable for everyone."

During the Covid-19 pandemic and nationwide lockdowns, Tel Aviv medical and emergency workers were able to ride Bird scooters free of charge. Recently, the company launched a "frequent flyer" program that offers riders discounts for riding. Riders are eligible to join the program after 28 consecutive days of travel.

While Bird was the first company in the world to deploy electric scooters in Israel and the world, it is by no means the only player in the market. Today, competitors like Wind and Lime have grown in size and quality to help Tel Avivans with their micro-mobility needs.

Today, Bird scooters are found in 160 different cities and the company has 1,120 employees, according to Pitchbook. It is headquartered in Santa Monica, California.