Bird offers free scooter sharing to help Tel Aviv medics reach the scene in seconds
United Hatzalah personnel will be able to respond faster to emergencies using Bird's network of electric micro-mobility vehicles
Volunteer paramedics operating in central Israel just got a lot nimbler. Electric scooter-sharing company Bird Rides Inc. entered a collaboration this week with United Hatzalah, an emergency medical services non-profit, to provide its volunteers with access to Bird's fleet of scooters so they can get to the scene even faster than before.

United Hatzalah operates all sorts of rapid response vehicles, from ambulances to motorcycles and even electric bicycles, but using scooters enables the medics to respond to calls more quickly, particularly in crowded urban settings. The collaboration in Tel Aviv is a pilot project that may expand to other cities in Israel and around the world.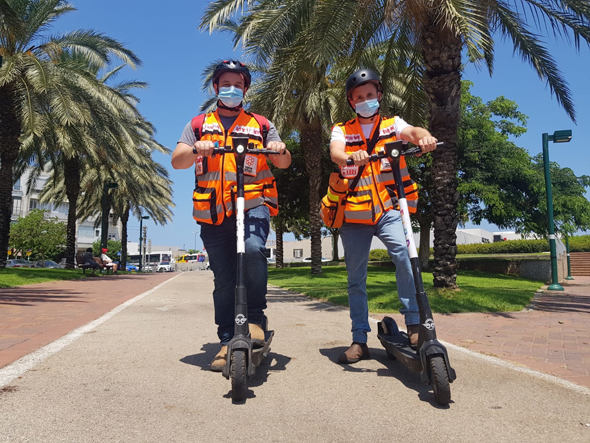 United Hatzalah volunteers riding Bird scooters. Photo: United Hatzalah

As part of the regional pilot, volunteers who are dispatched to emergency situations will be able to locate the closest available scooter, open the Bird app, enter the code they received from United Hatzalah and rush to the scene in seconds. Bird is also providing the volunteers with safety helmets.

"Our ability to save lives quickly through our network of lifesaving volunteers goes well together with Bird's fleet of scooters which are stationed almost everywhere in Tel Aviv. This will allow volunteers to locate a scooter nearby and quickly make their way to provide help within seconds. It also allows them to overcome traffic jams and expedite the provision of first aid to people in need," United Hatzalah CEO Eli Pollack, said in a statement.

"We are excited to launch the innovative collaboration. Israel is considered a world leader in the field of micro-mobility, and we put all our stock in developing capabilities and upgrading mobility opportunities for the Israeli public, said Bird Israel CEO, Yaniv Rivlin.