Nine Israeli organizations granted EU funding under Horizon 2020 program
The entities will take part in eight of the twenty-three international projects designed to tackle the ongoing coronavirus (Covid-19) pandemic
Nine Israeli organizations have been selected for EU funding under the Horizon 2020 program designed to combat Covid-19. The entities, which are a mixture of research institutions, NGOs, governmental bodies, and companies were granted a total of NIS 18 million ($5.3 million).

As part of the grant, they will help with the social and economic effects of the pandemic by developing medical technologies or building databases to respond to emerging health threats. Overall, they will take part in eight of the 23 collaborative projects, which consist of at least three partners each.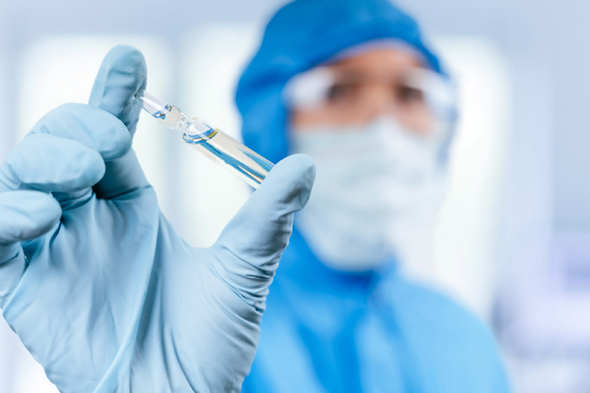 Nine Israeli organizations granted EU funding under Horizon 2020 program. Photo: Getty

Digital healthcare platform Sanolla coordinated a proposal and earned an outstanding mention in the program.

"The program enables Israeli participants to compete, in collaboration with outstanding European partners, for extensive grants which support long-term R&D and test applications of proposed solutions in a variety of fields together with potential customers," said Dr. Ami Appelbaum, Chairman of the Board of the Israel Innovation Authority and of the ISERD Steering Committee. " I congratulate the Israeli entrants who won grants for solutions to the coronavirus crisis following the call for proposals."

"Participation in the Horizon 2020 program with partner companies is highly competitive, requiring considerable creativity and the development of close business ties from the preliminary preparation stage forward," added Dr. Hagit Schwimmer, Head of the Life Sciences Department at ISERD - Israel-Europe Research and Innovation Directorate at the Israel Innovation Authority. "Given the current terms of submission and the urgent demand for fast-moving solutions, we were pleased to see that so many Israeli participants were able to appreciate the significant benefits of the program and stepped up to the challenge."

The nine partnerships granted EU funding include:

Sanolla - The AI diagnostics solution company set up a partnership consisting of seven European entities. It is developing systems for monitoring Covid-19 patients with chronic heart or lung conditions. The AI-based tool can identify bodily sounds not audible by the human ear and can analyze and diagnose based on a variety of parameters. It will facilitate a 10-second identification time at home. Natali, an Israeli telemedicine company, is also a member of this partnership and will assist with its remote monitoring and management platform for human and professional contact.

SKM Aeronautics - The Israeli company is a partner in a project that is aimed at transforming production lines of silicon masks with antibacterial textures. In total, the partnership consists of 21 entities from academia, research, and industry that all work in production line manufacturing. The project is expected to last 24 months.

PhotosonicSys - the company is participating in a project that is developing a small, portable device that can carry out quick testing to detect the virus. The tests, which use a multilayer metallix plasma, will not need to be sent to a laboratory. Other participants in the program include a research team in France and an Irish company that is producing magnetic nanoparticles. In total, the project has seven partners and will last 12 months.

The University of Haifa - The project, led by Prof. Sara Rosenblum and partners Prof. Naomi Josman and Dr. Sonia Meir, involves building a platform to monitor, assist, and enrich adults and children in their natural environments. It provides personalized and empathetic assessments of children with disabilities to help improve the quality of life to improve mental and physical health during times of crisis. In total, there are nine partner members who will work together for 24 months.

The Hebrew University - This project's goal is to research the indirect effects of the decision taken to mitigate the pandemic. Prof. Howard Litvin is a partner in the team that consists of 12 countries in total. The team will collect data and analyze the attitudes and information of those who were affected by healthcare, employment, and other areas that might relate to social inequality. The project will determine the effect of the lockdowns in general and will last 36 months for all 15 partners.

MDM Projects - MDM Projects is a partner in a project named CleanAir, which will produce devices for air purification. These will be installed in hospitals, medical centers, and clinics. The project has seven partners in total, and MDM will be responsible for the development of the filter for the final product being designed by another partner. The company specialized in the development of medical products and the project is expected to last 24 months.

Siemens Israel - Siemens Israel is part of a project with 21 different partners, yet it is responsible for developing software connecting suppliers and consumers for components created from 3D printing technologies. Siemens, which is already developing the technology, opened the system to medical entities so they could locate global suppliers and provide comprehensive devices needed in areas around the world.

Magen David Adom - Israel's national emergency pre-hospital medical and blood services organization is part of a project called Covinform. It is designed to examine the response to Covid-19 at a variety of levels, including government, public health entities, and the media. The project is also planning to examine the impact of the pandemic on vulnerable groups of the population. Today, Magen David Adom is active in Israel's national response to Covid-19, gathering patient samples and plasma from recovered individuals. Covinform has 17 partners in total and will last 36 months.