Insight Partners leads $25 million series B round in automated penetration-testing company Pcysys
"Instead of just telling you that your home can be broken into through the roof, we attempt to actually slide down your chimney," said Pcysys CEO
Israeli cybersecurity company Pcysys Ltd. announced on Wednesday that it had completed a $25 million series B financing round led by Insight Partners. Other participants include Canadian venture capital fund AWZ Ventures and U.S.-based The Blackstone Group. The company has so far raised a total of $40 million.

Pcysys, an acronym for Proactive Cyber Systems, was founded in 2015 by Arik Faingold and Arik Liberzon. It is managed by CEO Amitai Ratzon. The company developed an automated penetration-testing platform that assesses and reduces corporate cybersecurity risks.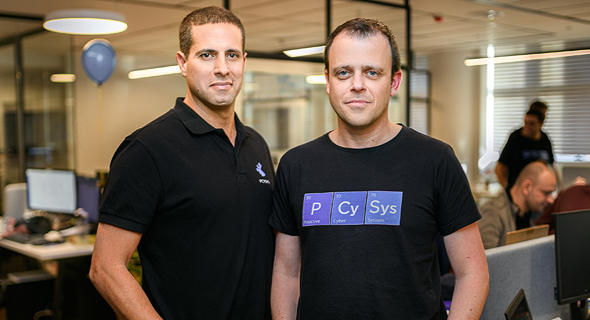 Pcysys co-founders Arik Faingold (left) and Arik Liberzon. Photo: Doron Letzter

The company said it currently has hundreds of clients, all large organizations, spread out across Israel, the U.S., and Europe and operating in more than 15 industries, including banking, insurance, investment management, healthcare, retail, and energy. Its well-known clients include internationally known brands such as communications companies IP Telecom and Teracom AB, as well as health services providers like NHS Royal Bolton Hospital, Swiss healthcare foundation, Wagerenhof, and Apria Healthcare.

Pcysys's PenTera automated penetration-testing platform assesses and reduces corporate cybersecurity risk by identifying, analyzing, and remedying breachable vulnerabilities. Its uniqueness lies in its use of ethical hacking techniques rather than the more commonly used simulation method.

The company emphasizes that its platform eliminates the need for human intrusion testers and physical access to customer facilities, allowing it instead to focus on remedying exploitable vulnerabilities. PenTera doesn't require the installation of software agents and relies on advanced, agentless, technology.

"We function like an X-ray of the company," Ratzon told Calcalist. "Organizations are feeling exposed these days. They read about cyberattacks becoming more and more sophisticated, they upgrade their products, and they become more and more concerned, but nobody checks that these things actually work."

"We have a team of former IDF and special units soldiers who design offensive tools. The essence of the product is to examine how a hacker would likely strike, utilizing both existing and new techniques," explained co-founder Arik Liberzon. "We develop special capabilities that make us unique and allow our customers to test themselves against non-standard attacks."

Liberzon said Insight Partners, which led the current financing round, has been following their company since 2018, but it was Pcysys's reaction to the Covid-19 crisis and its ability to continue offering its clients appropriate products that tipped the scales in favor of investment.

Ratzon added that another significant factor is Pcysys's rapid sales capabilities, which include short and effective demonstrations of its abilities.

"One of the problems in our industry is that there are no products that punch you in the guts. When you do a pilot, you are actually selling a project and not a product. Some companies conduct a three-month pilot followed by a long period of integration. The average salesperson completes two sales a year. We conduct a five-hour demonstration that proves the point even for those who are unfamiliar with cyber technologies," Ratzon said. "It completely changes the atmosphere at the company and we are currently selling at seven-digit figures on a monthly basis. Everywhere in the world, we have teams, they are able to quickly advance to sales.

"The Pcysys team and PenTera as a product align perfectly with our mission to invest in the most advanced software ScaleUps in order to accelerate growth," said Thomas Krane, Principal at Insight Partners. "Having invested in many cybersecurity companies, we can identify the industry leader that can dominate the security validation space. PenTera is revolutionizing how enterprises manage risk validation."

Pcysys said it plans to recruit 80 additional employees by the end of 2021, 70% of them in Israel.