Techstars Israel's Demo Day 2020 highlights future of startups in a post-Covid-19 world
Coming off a 13-week course, 10 startups from Israel and Denmark celebrate their successes in a physical location
Techstars, a global investment and innovation platform, held its Tel Aviv Demo Day this week as a celebration of its fourth year in Israel. Unlike previous years, which were focussed on fintech and cybersecurity companies from around the world, this is the first-ever Techstars accelerator program dedicated to Tel Aviv and the country as a whole.

The event was held in the Peres Center for Peace and Innovation, a Jaffa-based auditorium overlooking the sea. Usually, the mentorships and programs were restricted to a hybrid model balancing a co-working space and online classes. However, for the Demo Day it was opened up to all participants.
SenseIT speaking at Techstars. Photo: Hanna Taieb

David Brown, Techstars' founder and CEO, joined via Zoom link as he congratulated the 10 startups for their progress during unprecedented times of the coronavirus (Covid-19) pandemic.

"The team has done a great job at pivoting, as all startups do," Brown said to the (socially-distanced) audience of around 40 people via a live-stream. In addition, there were more than 500 people watching broadcasts on Facebook and YouTube. He continued to say how the move to a mostly-online accelerator program allowed investors to meet with the startups from around the world, ultimately hailing it as an "improvement."

The startups this year included pre-seed companies from a variety of industries, including fintech, wellbeing, entertainment, and accessibility and inclusion. Some of the companies that participated in the program included SenseIT, a tool that tests accessibility on websites for disabled users; Parsempo, a software-as-a-service solution to help with marketing and commercial advertising space for digital screens; and i-BrainTech, a product that suggests it can help athletes improve their performance by playing games using only their minds.

Inthegame, another participant, helps make all broadcast content—whether live or pre-recorded—more personalized by gamifying it and including additional add-ons like polls, quizzes, or chats. According to CEO Avriham Sharon, the tool will be implemented during the Golf U.S. Open in September for viewers to 'play along' at home.

In total, all 10 startups spoke in front of the live-audience and the streamed viewers at home. The event was followed by an off-camera celebration with food, music, and emotional goodbyes - all in accordance with the regulations of the Israeli Minitry of Health.

Techstars' Tel Aviv program is one of 60 around the world, with other cities including Toronto, London, Singapore, and New York. Tel Aviv Managing Director Hilla Ovil-Brenner comes from a background in entrepreneurship herself and was invited by Techstars to run operations on the ground.

After the event, which CTech attended, Ovil-Brenner spoke exclusively about the experience of overseeing first-time entrepreneurs and trying to run a conventional accelerator program in unconventional times. She felt a personal attachment to some of the challenges faced by the companies during the mentorship, fundraising, and announcements.

"We are super proud that we did this over Covid-19," said Ovil-Brenner when speaking with CTech. "A lot of accelerators didn't open their hubs but we felt it was a great idea… We have a great space in town and we kept all the (social distancing) rules."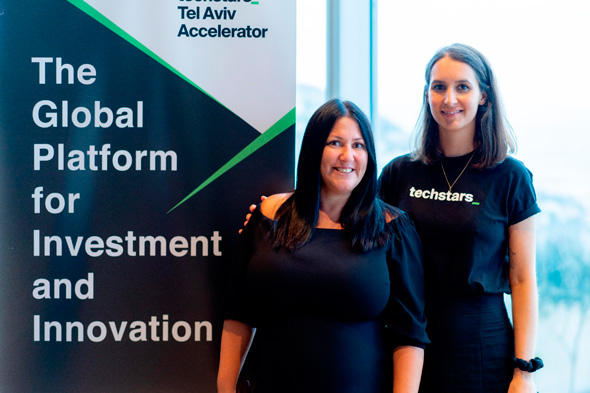 Techstarts Managing Director Hilla Ovil-Brenner (left) and Franka Godina. Photo: Credit: Hanna Taieb

Ovil-Brenner herself has raised more than $40 million across three separate companies she has founded. And while she admits that "some have succeeded and some have failed," the experience of moving from entrepreneur to more of a mentor and investor role has been significant.

"I feel for these companies," she told CTech. "I feel a part of their lives."

Due to the size and scope of Techstars, much of the 13-week program could take place online and take advantage of its global network of mentors and investors. According to Ovil-Brenner, 20 other entrepreneurs-turned-managing directors from around the world 'checked in' with the Tel Aviv scene to help them penetrate markets from around the world.

During the Demo Day, Techstars played a pre-recorded interview with Eyal Waldman, former CEO of Mellanox, in a discussion that lasted roughly 15 minutes. The interview was conducted by Ovil-Brenner, who described him as a "role model" for the startups and the tech ecosystem at large.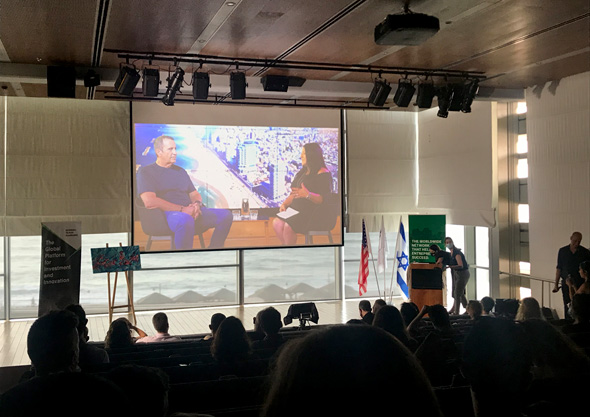 Eyal Waldman appearing in a recorded interview. Photo: James Spiro/CTech

"You can always use Covid-19 as an excuse to fail," he told Ovil-Brenner. "But the world isn't stopping because of it. The world is not waiting for you."

The 2020 Techstars accelerator was pushed back from March to June due to Covid-19, so Ovil-Brenner and the team only have one week before starting the whole process again for the next cohort. It will take place, hopefully, in-person at the same location and will start on time in March, 2021.

To find out more about each company, click here.