Nvidia reveals slew of new products with the help of Israeli teams onboarded with Mellanox acquisition
Two of the four new technologies revealed by Nvidia relied on Israeli research from Mellanox, a supplier of computer network products
NVIDIA Corporation has announced four new products, with two of them receiving assistance from a partnership with Israel-based Mellanox Technologies Ltd. The Jetson Nano 2GB, the Nvidia Maxine Cloud AI video streaming platform, their DGX SuperPods, and Bluefield DPUs all made their debut with the latter two including Mellanox's technologies to help achieve their goals.

Nvidia officially completed the acquisition of Mellanox in a deal valued at $6.9 billion back in April, which now goes by the name of NVIDIA Networking.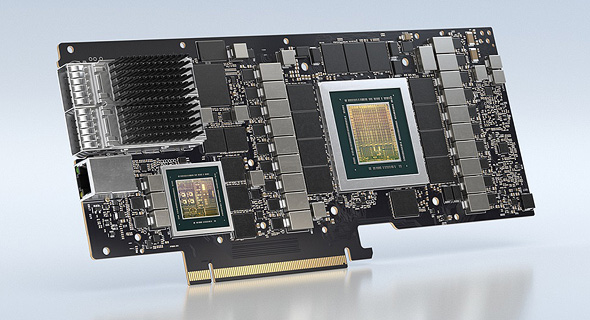 NVIDIA's BlueField chip with Mellanox's ConnectX-6 capabilities. Photo: NVIDIA

Appearing at the GPU Technology Conference as the keynote speaker, Nvidia Founder and CEO Jensen Huang outlined the company's three-year roadmap regarding its data processing units - or DPUs. Specifically, he mentioned the new Nvidia BlueField-2 family of DPUs and the NVIDIA DOCA software development kit for building applications on DPU-accelerated data center infrastructure services.

"The data center has become the new unit of computing," said Huang. "DPUs are an essential element of modern and secure accelerated data centers in which CPUs, GPUs, and DPUs are able to combine into a single computing unit that's fully programmable, AI-enabled and can deliver levels of security and compute power not previously possible."

The NVIDIA Blue-Field-2 DPU features all of the capabilities of the Nvidia Mellanox ConnectX-6.

The second product to include Mellanox's contribution was Nvidia's DGX SuperPOD Solution for Enterprise, also announced at the conference. The turnkey AI infrastructure is sold in 20-unit modules and interconnected with Mellanox's HDR Infiniband. The SuperPOD systems start at 100 petaflops of AI performance and can run complex AI workloads.

"All this work began in Israel with the Mellanox team, and we are super excited about this," said Deepu Talla, Vice President and General Manager of Edge Computing at Nvidia speaking ahead of the conference. Talla joined the press and a number of Nvidia executives on a virtual call where the management praised how Israel has 250,000 software engineers, highlighting a further 50,000 currently studying the sector and preparing to enter the workforce.

The two remaining products, the Jetson Nano 2GB and the Nvidia Maxine Cloud AI video streaming platform were discussed on a call ahead of the conference by Richard Kerris and Kimberly Powell, who serve as the general Managers of Media and Entertainment and Healthcare, respectively. The Jetson Nano 2GB helps expand the potential of AI to a new generation of students and educators through its affordable developer kit, whereas the Maxine platform will help enhance video streaming via online conferencing.

Nvidia was founded in 1993 and designs graphics processing units for professional markets while helping redefine modern gaming graphics. It also provides system-on-a-chip units for the mobile computing and automotive markets. Mellanox Technologies is an Israeli company co-founded in 1999 by Eyal Waldman, who currently serves as its CEO. It supplies computer networking products based on Infiniband and Ethernet technology, such as software and silicon, for markets including data centers, cloud computing, and financial services.