There's only one way to safeguard the U.S. elections, says MonsterCloud CEO
Zohar Pinhasi says only unifying the entire voting platform can truly ensure a safe and credible process
As Americans go to the voting booths to determine who will govern them for the next four years, there is one way that the electorate can be sure their votes are safe and valid. Zohar Pinhasi, founder and CEO of cybersecurity company Monster Cloud LLC, states that every voting machine must be 'unified' to help prevent hacks.

"The election platform has a lot of loopholes (in the U.S.), and even that is an understatement," Pinhasi told CTech when describing the voting system across all 50 states. "In some cases, the platforms that the cities are using are pretty old and in some cases, the drive on which the votes get recorded is not even encrypted."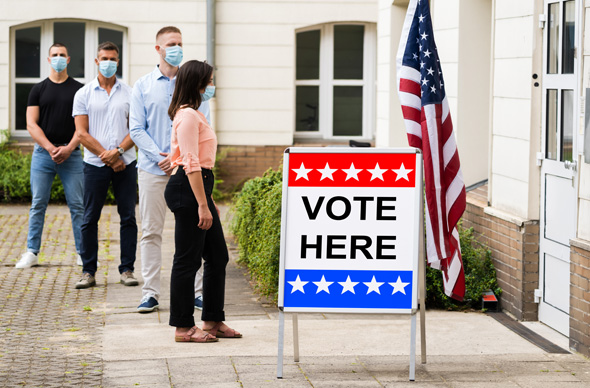 US citizens start casting their vote in what has been an unprecedented election year. Photo: Shutterstock.

MonsterCloud was founded in 2003 and provides ransomware protection for large companies and law enforcement agencies. It focuses specifically on 'high-profile terrorism' cases and offers data recovery, remediation, and ongoing protection from cyber threats. In 2017, it attracted the attention of Former Deputy of the FBI, John Pistole, who joined the team due to its willingness to help law enforcement agencies in the U.S. free of charge.

Private companies might have the tools and resources to safeguard their security and prevent attacks, but the public sector is famously slow in keeping up with technology - something that Pinhasi has called a "heaven" for the criminals who intend to hack and corrupt the platforms responsible for hosting 360 million votes next month in a national election.

"The platforms that are used are platforms which are no longer supported, such as Windows 7 or even Windows XP, which are used as a voting machine," explained Pinhasi. "There are some cities or counties that are using old equipment that take a minute to hack into and cast a thousand votes for any candidate. That's my gut feeling and in reality, that's what it is."

Pinhasi claims that it isn't possible for the U.S. to "go back to the old-fashioned way" of voting on physical ballots and that instead, the government should "unify every voting machine in the U.S." in order to establish a safe and secure network. It sounds simple until you consider the bureaucratic nightmare of aligning the budgets, needs, and priorities of every single county in the country.

"City-level changes sometimes take years and state-level changes take longer. A nationwide change? It takes a long time— years and years to get prepared for such a change."

MonsterCloud has protected hundreds of companies from thousands of attacks that set out to exploit legacy systems that might not be protected against new forms of hacking and ransomware attacks. Pinhasi told CTech about one client who was hacked for a ransom of $20 million. Since they had backups of all the data that was stolen, they didn't pay the demanded sum and instead quickly told their 1,000 retail stores to change the passwords. By then, the criminals had blackmailed their high-paying customers and escaped with more than $750,000 in two days.

It is entirely possible that criminals could hack into old operating systems that host votes in purple states to swing the election in favor of a single candidate, granting them an undeserved victory.

"Every city is connected to other platforms… The goal, and the way I see it, is unifying the entire voting platform," he stressed. "This is something I said in the last elections and I'll repeat it again: This is the only way to safeguard the voting platform."

MonsterCloud is based in Hollywood, Florida, and has 40 employees.