New Israeli cyber startup focuses on the dangers of airborne attacks
AirEye, founded by three veteran cyber executives, aims to embark on series A funding in the upcoming weeks
Israeli tech veterans Ohad Plotnik, Shlomo Touboul, and Amichai Shulman are launching a new cyber startup. The company, named AirEye, has developed a new solution to protect companies and organizations from airborne attacks. The company's product has already been installed by enterprise clients in Israel, Japan, and Europe and it plans to embark on a series A round in the coming weeks. So far the several millions of dollars that have gone towards product development have been funded by the founder's own capital and additional backing from Today Ventures and private investors.

AirEye currently employs 15 people and is actively recruiting additional personnel in the fields of development and data.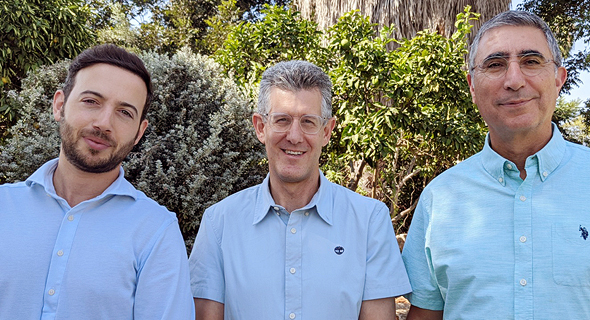 AirEye co-founders Ohad Plotnik (left), Amichai Shulman, and Shlomo Touboul. Photo: EyeAir

Ohad Plotnik, who together with his brother Idan founded the cybersecurity company Aorato Ltd., which was sold to Microsoft for $200 million, heads the new company's U.S. operations. That was not the brothers' first exit either. In 2012, they sold Foreity to the Aman Group. Shulman, who serves as the company's CTO, previously founded Imperva Inc. together with Shlomo Kramer and Mickey Boodaei, which in 2018 was sold to investment firm Thoma Bravo LLC, for $2.1 billion. Touboul is also a veteran cyber entrepreneur who sold his first company to Intel, invented the field of Sandbox behavior analysis, founded Finjan, Yogi 's Security Systems, and was CEO of Team8's Illusive Networks.

Nowadays, companies, organizations, factories, banks, and hospitals protect their physical space with various network security products. Beyond their boundaries lies the network airspace, which is vulnerable to airborne attacks that are invisible to the facility's security products. That's where AirEye's solution comes into play. It uses its airborne packet inspection capabilities to dissect network airspace traffic, profile invisible entities in the network, and provides full protection, to mitigate the attack surface.

For example, a large British company that suffered from frequent cyberattacks installed AirEye's solution and discovered that hackers had infiltrated the security camera network of the next-door building and used it to breach their systems. The hackers had essentially turned their neighbors' cameras into an attack vessel that leaked emails and documents. AirEye's solution was able to neutralize the wireless camera and stopped the attack.

According to the company's founders, until now most organizations invested in protecting their wired and wireless networks and were hardly aware of the exposure to airborne attacks or attacks from the organizational network or nearby networks. As a result, they suffer from data seepage through the unprotected network airspace and from non-controlled devices (access points, laptops, IoT units, smartphones) without being able to detect or prevent them. Airborne attacks can be carried out from half a world away, with the attacker taking over a wireless device in the proximity and use it as a local attack proxy to hijack the victim's airspace traffic, injecting malicious code, or gaining unauthorized access to the victim's network. The victim's lack of network air space prevents them from protecting themselves from this new breed of attack that has gained popularity in the past two years.

AirEye, which was born out of WifiWall's accumulated knowledge and the experience of its founders, provides visibility and transparency of the corporate network airspace and prevents attacks even before they occur, providing alerts on its preventative actions. The product's installation is simple and requires no software installment or changes to network settings, and doesn't affect the network capabilities.

"Due to the prevalence of wireless communication access points, a hacker from the other side of the world can take control of a wireless device in a coffee shop close to a hospital and attack its life-saving equipment," said Plotnik.

"We were surprised to detect vulnerabilities to airborne attacks even in databases of major organizations," Touboul added.