EU Border and Coast Guard Agency to lease Maritime Herons from IAI
Leasing deals have come to make up a substantial part of IAI's UAV sales volume, says marketing exec
Israel Aerospace Industries (IAI), together with its partner Airbus DS Airborne Solutions (ADAS) has been awarded a contract to provide the European Border and Coast Guard Agency (Frontex) with aircraft for unmanned maritime patrols.

The Europeans will lease the Maritime Heron UAVs for a period of four years in a deal estimated to be worth several tens of millions of dollars. The aircraft will operate in European airspace without the involvement of the continent's air forces and are meant to provide support for its naval units. The UAVs will be equipped with radars and electro-optical systems. They are capable of flying more than 24 hours in full operational configuration and create a comprehensive, real-time, naval picture in geographical areas for potential surveillance intere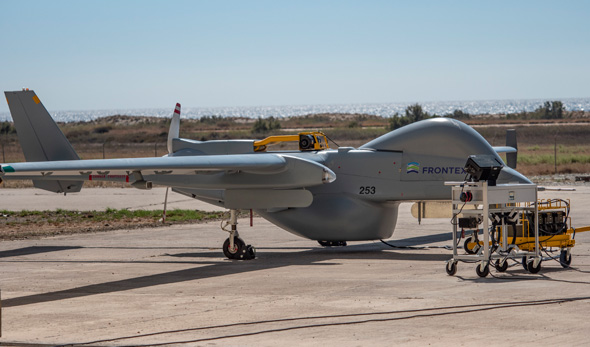 A Frontex leased UAV. Photo: IAI

sts.

The Maritime Heron was also sold to the Israel Defense Forces and is operated by the IAF for naval patrol missions. Greece too leases the aircraft in a $40 million deal signed six months ago.

Leasing deals have come to make up a substantial part of IAI's sales volume. In the past, Germany, Canada, and Australia all leased its aircraft during their militaries' operations in Afghanistan. The German air force extended its lease to operate the UAVs in Mali. The IAI's $600 million sale of the Heron TP to the German air force was also completed as a leasing transaction.