We're not stealing jobs from Israelis, insists company helping startups outsource tasks to programmers in Bulgaria
With Covid-19 forcing everyone to work remotely, GreatApp offers young companies more bang for their buck, hiring cheaper labor in Eastern Europe
Bulgaria-based AppGreat is determined to 'implement dreams' for startups who may desire to outsource their development teams to other countries. Notably, it helps companies in Europe, Israel, and North America connect with Bulgarian developers for long-term employment.

"During Covid-19, what a lot of people realized, is that because many people patriciate with Zoom, their geographical location becomes insignificant," AppGreat's co-founder and COO, Rami Nahum, told CTech. The company has a team of 50 local developers who are assigned to various clients, ranging from pre-seeds to corporates, to help them grow their development teams on an ongoing basis. "They're here in the office of AppGreat and they're AppGreat employees, but the client doesn't feel it," he said.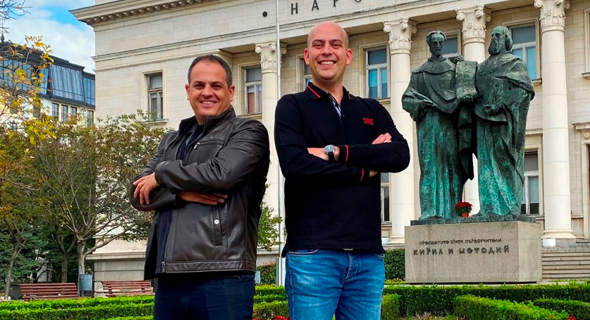 Josh Shoham and Rami Nahum. Photo: PR

The company helps clients with services such as web development, data management, architecture services, or cloud migration. Its collaborative approach helps its clients reach their goals of growing teams while keeping quality high and costs low. The company services 30 clients all over the world with 15 based in Israel - eight of which joined AppGreat since the Covid-19 pandemic.

"The financial risks of the startups, before round C, are very significant," stressed Josh Shoham, AppGreat's co-founder and CEO. Since Bulgaria is the poorest country in the EU, the salaries are lower and so younger companies can hire overseas talent without burdening the bank.

Nahum and Shoham both wanted to assure CTech that AppGreat doesn't intend to 'steal' jobs from the Israeli development sector, which typically demands higher salaries, sometimes as high as $10,000 per month. Instead, they see their service as a chance to tap into the "missing 10,000 positions for development" that Israel is reportedly missing, while matching Bulgarian salaries - a more modest $1,520 per month, according to Payscale.

"Most R&D will continue to be in Israel, most people will continue to be in Israel," said Shoham. "But when it comes to growth, and penetrating additional markets, this is where Israeli companies are struggling to create this expansive growth. It is hard to grow in one location, so adding an additional location enables those companies to grow much faster and penetrate more markets."

Nahum and Shoham said their decision to set up shop in Bulgaria was two-fold: firstly, it is within the European Union, so it helps overseas clients tap into European culture and university graduates while abiding by regulations like GDPR. Secondly, according to a study the pair conducted, "relative to the Ukrainians, the retention period of the Bulgarians is much longer." According to Nahum, the average Bulgarian stays in a position for 18 months, whereas their Ukrainian neighbor leaves after only eight.

CTech previously spoke with Aharon Balnen, founder of PercepionBox, a similar company with headquarters in Ukraine. Its network of people in Ukraine, as well as other outsource locations like Belarus and Moldova, opens up the space to more than 250,000 developers ready to work with companies all over the world. "The most important thing for startups is not the cost, it's the time," of building development teams, Balnen told CTech. Companies like these can help companies with access to top talent in places that are no longer considered far away since so much of our lives are now over Zoom.

Of course, the Covid-19 bubble will end, perhaps sooner than we think, so the question of what will happen to companies that permanently scaled during a temporary problem of 100% remote working remains pertinent. For Israelis, AppGreat believes there is '"no better place" than Bulgaria.

"There are three flights a day to Bulgaria - it's like taking a bus," said Nahum, looking ahead to when travel opens up again. Shoham believes companies will go back to having visits in both directions, "both from the customers coming here, and the teams here going to the customers (overseas) as well," making remote colleagues long-distance ones in the future.