Tech@Work
Work-from-home fatigue? Cybereason told employees to get off Zoom
For one week every quarter, cybersecurity company Cybereason ended all Zoom meetings to avoid fatigue. Here's what happened.
"We are well aware of zoom fatigue," explained Cybereason's HR Director in Israel, Gal Noff Eitan. "(We) wanted to help our employees have a productive and balanced workday."

The sudden change from office life to remote working for the months of 2020 took a toll on most people. Due to Covid-19, workers were now spending hours a day speaking with talking heads on a screen. That's why Cybereason planned a 'blackout' from Zoom every three months.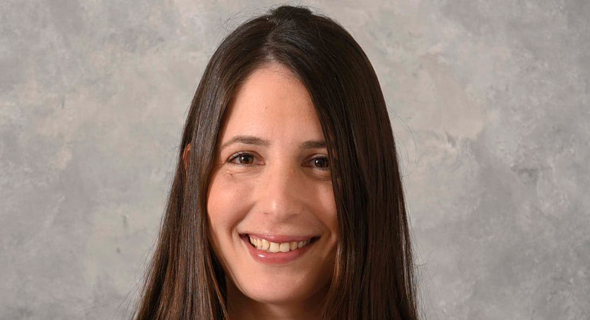 Gal Noff Eitan, HR Director Israel. Photo: Sivan Farag

Now that 2020 is coming to an end, Cybereason has employed 100 people 50 of which are women, in a time where people were balancing their lives on and off Zoom. How did they do it? Noff Eitan talks with CTech for its HR-Post-Covid series to find out more.

Company Name: Cybereason

HR Leader: Gal Noff Eitan, HR Director Israel

Field of Activity: Cybersecurity

Number of employees/location: 650 Global, 260 Tel Aviv, and Headquartered in Boston, USA.

Professional background:

I have over 12 years of experience in various HR positions in both startups and corporates of high tech and pharmaceutical companies; I joined Cybereason almost two years ago and today I'm leading the HR team in Israel. The team is in charge of bringing in the strongest talent, keeping them challenged and engaged, developing their abilities, and growing future leaders.

On a scale of 1-10, how much did the coronavirus pandemic disrupt operations at the company?

I'd say 7. As the main technology center of Cybereason, we used to work mainly from the office. Our culture, working environment, meetings, and events were built on the fact that we are all in the office every day. When Covid-19 hit the world in early March, we knew immediately that something had changed. We joined forces with our internal communications and global operations teams to assess the situation and built a new hybrid work model. We named the hybrid work model "RETHINK", since we need to challenge our conceptions and re-define aspects of company life e.g., workspace, well-being, culture, and effectiveness.

We understood that there is are two levels that we need to RETHINK for this new reality:
Company level: Covid-19 brought uncertainty to the world, and the first thing we wanted to convey to employees was the feeling of certainty. We boosted our internal communications with weekly meetings with our management and All Hands meetings with our CEO and made sure that everyone in the company is aware of the different activities. Looking back, that really helped us to maintain our culture and togetherness. Every week we sync as a multi-disciplinary team to think about how to evolve and to create new activities in order to engage better with our people.

Employee level: our main goal was to create an optimal working environment. First, we need to make sure our people can work effectively and comfortably from home, so we gave our employees an allowance for a home office. Secondly, we want to give our people a supportive holistic experience to ensure their well-being. We gave a Freefit subscription budget for all Tel Aviv employees. We also subsidize psychologist sessions and run monthly enrichment lectures. We have also significantly increased the budgets for team building activities in order to make sure people meet others and maintain the stickiness as a company.

What interesting technological tools do you use in employee management/recruitment?

Our best method for recruitment is our employees. Our referral program is the most successful.

We also use Greenhouse, LinkedIn Recruiter, and LinkedIn Insight, which collects information from Linkedin and aggregates it in comparison at a macro level.

The main challenge is the remote onboarding. We send new employees all of the equipment (and company swag!) to their home and we introduced a "buddy program", where we partner new and current employees together throughout the onboarding process, which also includes a virtual "Flight School" (Cybereason's onboarding program).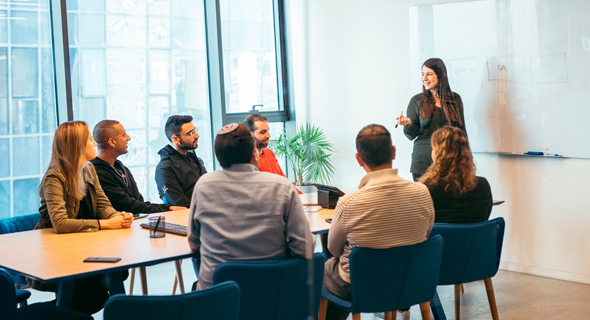 Cybereason Team. Photo: Micha Loubaton
What positive and/or negative impact did the outbreak have on the human capital of the company?
I think the new norm has a positive impact on how we are working but this impact exists only if we have a good work-life integration. After a few weeks of working remotely, we understood that we needed to take a proactive approach so created a new company calendar - with suggested break times between 12-2 p.m. and 6-8 p.m. worldwide and set up the default meetings to 25 or 50 minutes. The last thing we did is a week without meetings once a quarter. We are well aware of zoom fatigue and wanted to help our employees have a productive and balanced workday.
What are the two major challenges you are coping with these days?
Cybereason is growing and we are constantly looking for excellent people to join us. However, candidates are less inclined to leave their current workplace these days. We focus on making sure the candidates are aware of our overall business health and growth and that helps candidates make the right decision for themselves. Also when recruiting via zoom, the whole experience is less personal and we are finding it difficult to create a personal connection, which is something we did very easily in face-to-face meetings.
Since January 2020 we hired almost 100 employees in Tel Aviv only (50% of them are women!). We are working hard to create a diverse workforce, even during this challenging time in the world.
To combat Zoom Fatigue, and employee burnout, we created a remote leadership program that focuses on practical tools that will allow managers to promote our employee wellbeing and productivity in times of uncertainty, stress, and isolation.
Are you actively recruiting? If so, what is the process and where can the applicants find you?
Yes, we have been actively recruiting throughout the whole year, we have more than 30 open positions in Tel Aviv only, and many more globally. Any suitable candidate can apply via our website Careers Page or through a friend that works at Cybereason!
Which changes forced upon you by the circumstances will stay in place after Covid-19 is over, and which are you most eager to revert back to normal?
Work-life integration and flexible work hours are something that we were focused on before Covid-19 so for sure we will keep innovating and creating new methods after Covid-19.
That said, we are very eager to come back to the office and have company events. We have many events planned for 2021 - and we are so excited to have those take place. We miss each other and look forward to working together again.
One of the things that I am most proud of is an initiative we did during Rosh Hashanah. We sent our management team to visit every employee outside their house (with a mask!) with a holiday gift. Some of our new employees never met their manager face-to-face, and this was their first meeting. It was very emotional, and our employees loved it!
At Cybereason, we constantly evolve and grow, and we will keep changing and perfecting our new working model in order to make sure our employees have the best work experience possible, while they are solving some of the world's most complex technology challenges to achieve our vision of an open, safe and connected world.